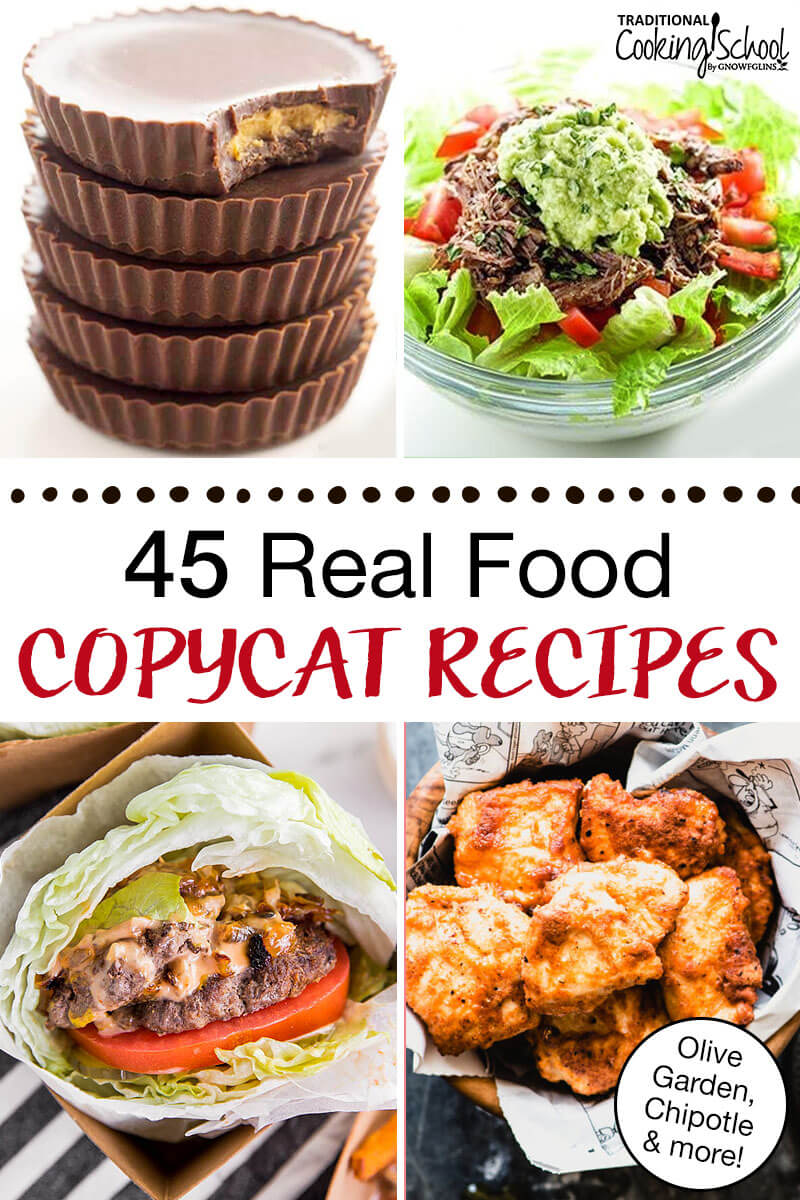 Do you have a favorite take-out dish that you love…
…but you cringe every time you dig in, because of all of the additives or processed ingredients?
Looking for the best real food copycat recipes from your favorite restaurants?
If you have a favorite food from a chain or beloved popular treat, check out these 45 amazing real food copycat recipes!
They are all gluten-free and most are Paleo, Whole30, or GAPS compliant. A generous handful of them are even Low Carb and AIP.
I hope this list encourages you to make real food versions of your favorite classic take-out dishes, saving money and skipping the harmful ingredients. You can eat healthy while sticking to a budget.
For your convenience, I've included the dietary categories of these recipes in parentheses below. There's some overlap and a few that are simply gluten-free but not necessarily dairy free which would not make them Paleo or Whole30.
Nonetheless, these are all recipes that I feel comfortable making for my family and are made with wholesome, clean ingredients.
Real Food Treats & Snacks Copycat Recipes
Image courtesy of Wholesome Yum. 
These treats and snacks are great to toss in school lunches or your bag for a day at the park. Some are just that… treats, containing sugar, albeit less processed and more wholesome, but still sugar.
Keep that in mind when going through this list. Even with a real food mindset — sweets should be a treat and kept to a minimum.
Real Food Breakfast Copycat Recipes
Image courtesy of Whole New Mom. 
Start the day off right with these real food breakfast knock-off favorites. Some of these can be used as snacks or even a sweet treat after a hearty meal. But regardless, they are all gluten-free and rich in real food ingredients.
Real Food Salad and Side Copycat Recipes
Image courtesy of 40 Aprons. 
This list is nice and short but really, how can you go wrong with something so simple as your beloved Lo Mein and a favorite take-out salad? Pair this with a delicious main dish below and you have yourself a healthy, nourishing meal.
Real Food Main Dish Copycat Recipes
Image courtesy of Prepare & Nourish. 
This is where it's at! Check out this long list of delicious, yet real food creations of your favorite take-outs and eat-outs.
Some are conveniently made in the Slow Cooker while others in the Instant Pot.
As always, these are all gluten-free and real food versions of your favorite copycat recipes. I've made notes where I felt it was easy to make changes to accommodate GAPS and Low Carb folks.
Soup Copycats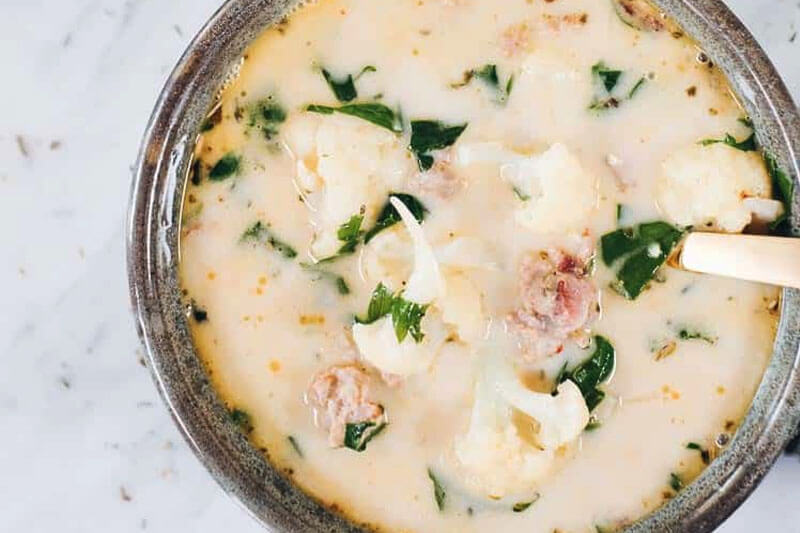 Image courtesy of Real Simple Good. 
Nothing is more satisfying and comforting than a nice bowl of nourishing soup.
These soups have been tried and tested to meet all our real food requirements. Some have been modified to keep the Paleo and Whole30 theme going, but if you're not dairy-free, use regular cream or your milk of choice.
Condiments Copycats
Image courtesy of Everyday Maven. 
Though short, this list is my favorite.
Much to my disgrace, I have enjoyed Olive Garden's all-you-can-eat salad on one too many occasions in my past life. I love that I can totally replicate those same happy feelings at home (but without getting sick this time).
Drinks & Smoothies
Image courtesy of Prepare & Nourish. 
Finish the day off with your favorite refresher, shake, or latte. Some are simpler than others but all are real food versions of your favorite drinks.
Do you have a favorite copycat recipes? Is there one that's missing from this list?
Main images courtesy of Wholesome Yum, Wholesome Yum, 40 Aprons, and Steph Gaudreau. 
...without giving up the foods you love or spending all day in the kitchen!
Ditch the Standard American Diet, get healthier & happier, and save money on groceries...
We only recommend products and services we wholeheartedly endorse. This post may contain special links through which we earn a small commission if you make a purchase (though your price is the same).