Earthy and savory with a toasty flavor, we love za'atar (also spelled zatar or za'tar)! This Middle Eastern spice blend includes dried marjoram, thyme, and oregano… and once mixed up, is best enjoyed with olive oil for dipping bread or spread onto my favorite Middle Eastern pizza called manakish. Read on for my family's take on this recipe from our heritage!
Growing up, on the days my mom would bake many loaves of pocket bread for the freezer, we'd pull out the za'atar and good olive oil for dipping.
Called zeit oo za'atar (meaning "oil with Za'atar"), here's how the dipping goes:
Tear off a piece of bread
Dip it in olive oil
Dip it in the za'atar
Eat
Repeat!

Za'atar is a classic Middle Eastern spice mixture that starts with ground oregano, thyme, and marjoram mixed with toasted sesame seeds and salt. Ground sumac is another popular addition, which we happen to love.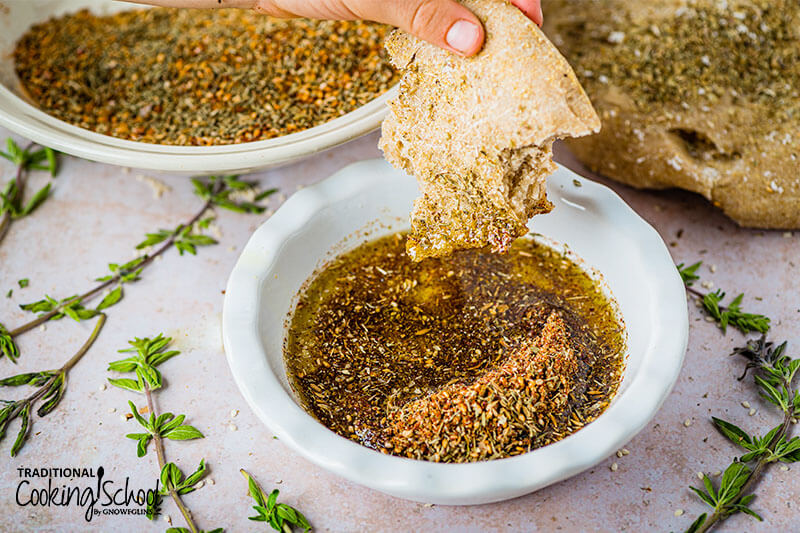 How Do You Pronounce Za'atar?
This word has different pronunciations depending on where you live. In America, it's typically pronounced za-tar.
Others will say it with a pause between the two a's: za-ah-tar.
Is it Zatar, Za'tar, or Za'atar?
Because most people pronounce it "za-tar" there's confusion about the correct spelling. In truth, all three are correct which can cause some confusion that zatar, za'tar, and za'atar mean different things.
The traditional spelling is za'atar, but if you do a quick online search, all options will get you the spice recipe results you want.
Is It A Spice, Herb, Or Seasoning?
Za'atar is a somewhat confusing thing because it's both an herb and a spice blend.
Za'atar the herb is most commonly known as hyssop, which is considered by biblical scholars to be known as the hyssop mentioned in the Hebrew Bible.
However, za'atar seasoning is the combination of herbs mentioned above, then mixed with sesame seeds and sea salt.
What Does Za'atar Taste Like?
Since za'atar spice blend is made from a blend of oregano, thyme, and marjoram, it has a very earthy, savory and toasty flavor.
Za'atar the herb, on the other hand, is Thymbra spicata, which is in the marjoram/oregano family and has a slightly minty flavor. Then, when you add in ground sumac, you'll get a hint of a lemony flavor as well.
When all these flavors are combined together, the flavor is unlike anything I've ever had, so there's really no comparison. You just must try it for yourself to see how wonderful it is!
Where Can I Buy Za'atar?
If you don't have all the herbs on hand to make your own, you can usually find the Middle Eastern spice blend at your local grocery store.
Many stores are now carrying bulk organic dried herbs (which are much more affordable than buying by the bottle). If you have trouble finding the right herbs, (finding sumac can sometimes be difficult) we recommend this brand on Amazon.
Or, if you happen to know of a Middle Eastern market, I'd try finding the za'atar spice blend there. However, be careful, as I've read that some companies are using ground up pretzels or other fillers in the mixes. Sad.
Is It Good For Your Health?
Yes! Since homemade za'atar is made up of multiple herbs, and herbs are incredibly good for your health, za'atar seasoning is very healthy.
It's likely what you eat it with that will make it either healthy or unhealthy.
Many of the herbs in za'atar have either blood-cleansing properties, can improve cardiovascular health, and a University of California San Fransisco study even found oregano to have breast cancer-fighting properties.
How to Eat Za'atar
As a child, I often ate bread, olive oil, and za'atar alongside a breakfast of fresh vegetables, fried eggs, and goat cheese. My mom would spread zeit ou za'atar on dough before baking for manakish, a Middle Eastern pizza recipe.
Za'atar can also be used with traditional pizza crust, grain free pizza crust, meats, grains, yogurt, and Soaked Za'atar Spelt Rolls.
Pssst… Members, check out Lesson 6 of our Sourdough eCourse to find a sourdough swirl bread recipe (pictured below) that includes za'atar, olive oil, olives, feta cheese, and salt. It's to-die-for!
How To Make This Za'atar Recipe
Typically speaking, whenever we make this recipe, we tend to double it. Our family LOVES za'atar, so we use it in many dishes.
We don't like to store it very long, though. As with any herbs or spices, once they've been ground they begin to lose their potency.
So, feel free to scale the recipe below up or down based on your needs
To make za'atar, simply combine all your herbs into a spice grinder and blend until desired, uniform consistency is reached. Then, mix in the sesame seeds and sea salt.
It's best if you can immediately add some to olive oil and dip fresh flat bread into it!
Za'atar Seasoning
Spicy and fragrant, za'atar seasoning is a wonderful Middle Eastern dry herb blend that pairs wonderfully with olive oil as a dip, or spread on flat bread.
Instructions
Measure out and add all herbs into a spice grinder or mortar and pestle.

Working in batches, if needed, grind herbs until desired, uniform consistency is reached.

Transfer herb mixture to a jar and add sesame seeds and sea salt.

Cap with a lid and shake until mixed well.
Recipe Notes
Paprika is optional, but we like to add it for color.
Grinding is also optional, however, we like our herbs to be uniform in size so the sesame seeds really pop!
Nutrition Facts
Za'atar Seasoning
Amount Per Serving
Calories 9
Calories from Fat 9
% Daily Value*
Fat 1g2%
Sodium 351mg15%
Potassium 22mg1%
Carbohydrates 1g0%
Protein 1g2%
Vitamin A 211IU4%
Vitamin C 1mg1%
Calcium 25mg3%
Iron 1mg6%
* Percent Daily Values are based on a 2000 calorie diet.
What Spice Can I Use In Place Of Za'atar?
If you can't find the complete blend for this Za'atar seasoning, then use whatever you have from the blend. It won't be an exact match, but when so many delicious herbs are involved, it's hard to go wrong!
Looking for more spice blend recipes? Try these!
...without giving up the foods you love or spending all day in the kitchen!
Ditch the Standard American Diet, get healthier & happier, and save money on groceries...
We only recommend products and services we wholeheartedly endorse. This post may contain special links through which we earn a small commission if you make a purchase (though your price is the same).