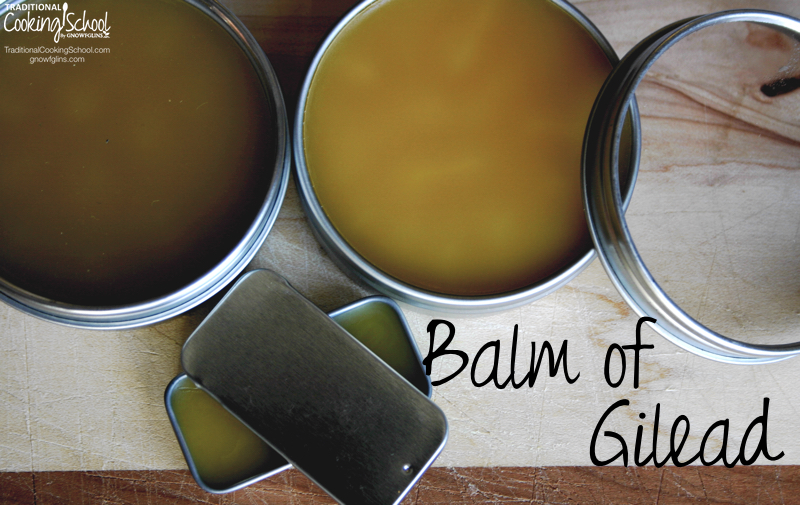 As I type, the wind howls, the trees sway, and the ravens perform acrobatic feats in the cloud-studded sky. March is showing itself to be a lion today, but I can only smile as I read a balmy 39 degrees Fahrenheit on the thermometer.
Spring brings to mind pussy willows, the sight of dirt, and the scent of cottonwood buds.
I love the coming of spring. All this new life and potential — a small taste of what is to come: more dirt, more sun, more warmth, more smells and tastes and colors!
The wind is especially pleasing to me today because I've been preparing this post to go along with my Balm of Gilead (poplar salve made from cottonwood buds). There are some days mid-winter when I rub it on my hands just to bring in the scent of spring.
It might be -10 degrees outside with shades of white and gray all around, but for that moment, in my kitchen, I feel the sun's warmth, hear the bird's song, and smell the flower's perfume.
Have you ever captured spring in a jar? Would you like to give it a try? Read on, friend!
The "Do It All" Salve: Poplar

This wonder oil soothes skin irritations such as eczema, cuts, rashes, burns, psoriasis, insect bites and stings, sunburn, athlete's foot, dry and scaly skin, chapped hands or cheeks, and prevents or heals diaper rash.
Thanks to its anti-inflammatory, analgesic, and anti-rheumatic nature, poplar salve helps to relieve the aches and pains of sore muscles, bruises, and arthritis.
It's also a mild sedative. Many have found a better night's sleep after rubbing a bit of balm under their nose at bedtime.
Try massaging a bit on your chest or placing a dab around your nose if you are suffering from a cold and have blown your nose one too many times.
My neighbor recently applied some to a wart and found it gone within a few days!
The cottonwood buds can be steeped as a tea for respiratory congestion. If you find yourself out in the wilderness, terribly hungry, and without provisions, try munching on a cottonwood catkin. They are high in vitamin C and can be eaten raw or added to soups and stews.
If anything, the smell of the oil reminds of spring, brings a smile, and makes for a wonderful "this will make it all better" boo-boo balm!
Have an ache, a pain, an itch, or stress? Apply, breath deep, say a prayer, and you might just find yourself pleasantly surprised!
If you come across a large area of downed cottonwood trees and are not able to use all you harvest, freeze the buds for later use! Be mindful of how much you gather if you pick from live trees. Pick some, but leave more. Gather from many trees, not just one.
Gathering cottonwood buds on a cooler day will make things much less sticky. My favorite resources for wild plant gathering information and inspiration are The Boreal Herbal by Beverly Gray and Discovering Wild Plants by Janice Schofield Eaton.
People with aspirin sensitivities or tree allergies may not want to use this salve.
Below I'll show you how to make it! You'll begin with cottonwood infused oil and then turn that into your Balm of Gilead.
Cottonwood Infused Oil
Begin with this cottonwood infused oil and then turn the oil into your Balm of Gilead.
Total Time
45
days
5
minutes
Instructions
Fill a glass jar half full with cottonwood buds. 

Pour olive oil over the buds and to within 1 inch of the top of the jar. 

Cover with a napkin or coffee filter and a rubber band. 

Allow to sit and steep for 6 weeks or up to a year or more. The richer the better! 

Make sure your buds are always covered with oil. This prevents them from molding. 

The buds may float at first, but they will eventually sink. 

Stir or shake the jar every few days for the first few weeks. 

Use as an oil or make into a balm or salve (see below).

To use as an oil, decant through a cheesecloth and put oil in an easily-accessible bottle or jar.
Recipe Notes
For a quicker infusion, place cottonwood buds and olive oil in a double broiler.
Warm slowly and allow to simmer for an hour.
Stir every now and again.
Consider doing this before bed and letting the buds steep through the night.
Strain in the morning.
The longer the steeping time, the better.
Balm of Gilead (aka Poplar Salve)
So handy! Store in your purse, medicine cabinet, garage niche, coat pocket, tool box, gardening nook, glove compartment, junk drawer, bedside table, diaper bag, first aid kit... anywhere you'd like!
Ingredients
1

ounce

beeswax pastilles

2 tablespoons

1

cup

cottonwood infused oil

see recipe above

1/4

teaspoon

vitamin E oil

2 capsules (optional)
Instructions
Slowly melt beeswax in pot. 

Use more or less to obtain a harder or softer salve. 

Add infused oil. Stir and allow beeswax to melt again if necessary. 

Pour into a clean glass jar or tin. 
Recipe Notes
Have an ache, a pain, an itch, or stress? Apply, breath deep, say a prayer, and you might just find yourself pleasantly surprised!
Enjoy! Be sure to share what this spring in a jar does for you and your loved ones!
save time, spend less, and get healthy... simple & delicious traditionally-cooked meals using ingredients you already have... even leftovers... 30 min or less!
Healthy Dinner in 30 Minutes... While Spending $0 Extra!
We only recommend products and services we wholeheartedly endorse. This post may contain special links through which we earn a small commission if you make a purchase (though your price is the same).