Are you struggling with weight gain or sugar cravings? Nourish your body from the inside out with 10 healing tips to stop sugar addiction!
What causes a sugar addiction?
Is it too much of a good thing gone awry? Candida? Maybe we can blame our hormones?
Whatever the cause, many of us are slaves to sweets — which sabotages our thoughts, our dental health, our gut ecosystem, and our overall wellness.
Today, most people eat between 90 and 180 pounds of sugar each year — or a quarter to a half-pound each day.
Compare that to 100 years ago, when people ate 5 to 7 pounds of sweeteners per year. (These were natural sweeteners, by the way.) These people were much healthier than we are. More factors are involved than sweeteners, but certainly the level of sugar consumption is a major contributor.
Yet those are just the numbers. Time to put them in perspective and share their impact…
Overcoming Sugar Addiction
Please set aside distractions and watch or listen to the video below. Or, if you prefer to read, I captured the gist of our interview in the cleaned-up notes below!
Subscribe to the Know Your Food with Wardee podcast on iTunes, Stitcher, YouTube, or the Podcasts app. For past or current episodes, check out the Know Your Food with Wardee podcast archives.
Why Go Sugar-Free?
Just what is wrong with consuming high amounts of sugar? The biggie is that sugar makes us fat.
Here's how that works:
When you eat sugar, your blood sugar levels rise. Your pancreas sends out insulin to grab up the extra sugar in the blood, converting it to glycogen for storage. Then — and here's the problem — your liver uses up that glycogen for fuel, instead of transferring fat out of your fat cells.
What are some other things that sugar does to your body? I'm warning you, it isn't pretty.
You can read more reasons to ditch refined sugar here.
And sadly, sugar consumption is a slippery slope. Few of us are content with only a little bit. And so that first mouthful becomes two, and then three…
Sometimes a clean break is in order; a reset to eliminate the day-in, day-out sugar cravings!
Wardee's Story
I was at the point where I was used to a constant drip of sweetening all day long.
For breakfast, I'd have a generous scoop of raw honey on my toast or porridge. Throughout the day, I would drink generously honey-sweetened tea. About mid-afternoon, I'd grab some dark chocolate. After dinner, we'd all have dark chocolate for dessert. And if I made muffins or cookies, I'd eat some of that, too.
None of these foods were big offenders. Taken by themselves, quite innocuous. But all day, hour by hour, I feel like I was hooked up to a natural sweetener IV. Can anyone relate?
Megan's Story
My dear friend Megan Stevens from Eat Beautiful is joining me to share her own story and tips for overcoming sugar addiction. I'm sure many of us can relate, so I'm sharing her story here in her own words:
My own sugar addiction originated all the way back in the 1990s, when I thought that fat was bad and sugar was simply free calories. Over the years, I'm sure non-fat treats played a role in my illness and pathogen overgrowth.

So how do we loosen sugar's hold on us once and for all?

In my late 30s, with dangerously bad health, I finally started a grain-free and refined sugar-free diet.

It took 3 full years for my sugar addiction to go away. I never cheated, but I still craved what I could not have. Over time, I've figured out certain choices and steps that aided in my process of recovery.

Now, my sugar addiction is gone, and the cravings have never returned!

I hope these insights will make your journey as successful as mine — and much faster.
How To Stop Sugar Addiction
High-fructose corn syrup is the industry's sweetener of choice because it is very sweet and also very cheap.
Natural sweeteners are better than industrial sweeteners like high-fructose corn syrup or white sugar. Natural sweeteners contain minerals and some, like raw, unfiltered honey, have anti-bacterial and other beneficial properties.
However, sweeteners are sweeteners and high consumption can be detrimental to our health. For our overall health, it is best to back way, way, way off on the sweets — and choose natural sweeteners when you do consume them.
You can be successful in overcoming sugar addiction by tackling it slowly or doing it cold turkey.
I'm a fan of going cold turkey because I think you can get it over quickly and get on with life.
However… You should expect some withdrawal symptoms, such as irritability, headaches, fatigue, and maybe even some tummy upset. These usually pass within a few days.
Listen, watch, or read these 10 tips that will help you in overcoming sugar addiction!
1. Increase healthy fats.
A belly full of good food will help fight off withdrawal symptoms and cravings.
Fat is satiating. When overcoming sugar addiction, this is your single most powerful tool for killing the craving.
Fill up with veggies, good protein/meats, broth, and traditional fats like lard, butter, coconut oil, avocado oil, and extra virgin olive oil.
Stick to this list of our top 5 most nourishing foods, which will fill your body with all the good things it needs, eliminating cravings.
Learn more in the articles below, and be sure to try out a few of the delicious recipes!
2. Remove all temptation to stop sugar cravings.
Here's what Megan has to say about removing temptations…
I used to meander down the ice cream aisle at our local grocery store on a regular basis. Or I'd make homemade ice cream.

When I realized I had pathogen overgrowth (see #3), I stopped buying or providing myself with this treat. The elimination of sugar, and even honey (for a time), helped to destroy the pathogens.

Without any sweets to eat, I began to stop (it was a process!) thinking about dessert. Eventually, I stopped altogether. Now my kids think I'm boring and wish I'd get my sweet tooth back!
Tip: Watch out for hidden sugars in things like salad dressings, ketchup, sauces, and dips. The more you can make yourself avoid these types of things, the better. Check out the recipes below for ideas!
3. Have your stool tested to see whether or not you have pathogen overgrowth.
If you have pathogen overgrowth, often referred to as candida, these invasive organisms may be calling the shots in your body. Pathogens feed on sugar. Our bodies are largely comprised of microscopic critters, so yes, they can affect our cravings — as creepy as it sounds!
Here's how to bring back internal balance to help stop sugar addiction.
4. If you have leaky gut, consider supplementing with N-Acetyl L-Cysteine.
Often, sugar addictions and leaky gut go hand-in-hand.
N-Acetyl L-Cysteine, a precursor to glutathione, is an important building block for the cells that line the gut. Megan took 900 milligrams daily for 3 months, then stopped. In the end, this was the amino acid supplement that helped to seal her gut.
Please note that long-term use of N-Acetyl L-Cysteine can lead to histamine intolerance. Find more information on histamine intolerance here and here.

If you're interested in learning more about gut health, check out these articles!
5. Finish your meal with a strong fermented vegetable.
There's nothing like a salty pickle or a tart mob of sauerkraut to make you feel finished. The addition of these probiotic-rich savory foods also helps to restore inner balance to your gut's ecosystem.
Browse through our fermenting recipe archives for many more recipes, including those below!
6. Never cheat.
Megan hasn't swallowed a single bite of sugar in 5 years. How?
She created alternatives as needed so she never ran back to old favorites.
In her sugar-free cookbook, many of the recipes use or can be adapted to use stevia or hardwood xylitol (see #7). This means there's zero chance of feeding pathogens.
Check out our sugar-free recipe archives here at TCS, including a few of our favorite recipes below!
7. From here on out, eat sweets in moderation. If at all.
You have to decide what you can handle. A weekly dessert?
Likely your tastes will change so the former sweets will taste overly sweet, but even with natural sweeteners, you can fall back into the same habits.
Perhaps look into stevia as a sugar alternative. It tastes sweet but is not sugar. Some people report it doesn't help them, however, because it keeps them hankering after a sweet taste. I do not have this struggle personally, and my favorite brand is Sweet Leaf.
Here is what Megan has to say about her experience…
I began my healing process with both honey and stevia in my diet. However, my pathogen overgrowth was so invasive, I eventually had to give up not only honey, but many sweet vegetables as well.

I sweetened tea with stevia during this time, and occasionally made a treat with hardwood xylitol when the textural needs of a recipe demanded it.

Although stevia and xylitol are controversial sweeteners among us traditional foodies, I found them both helpful to our family in certain stages of the healing process. (You can read my views on stevia here.)

Xylitol is controversial enough that I eliminated it as soon as I could tolerate honey and maple syrup again. Xylitol is a high-FODMAP food that causes fermentation and gas in sensitive individuals. It may or may not be helpful to your body. It was a temporary helper that I don't regret.

By the time I tackled my pathogen overgrowth and sealed my leaky gut, my sweet tooth had disappeared. I no longer thought of sweets from the moment I woke up in the morning until my last dessert of the night.

And now, I'm well enough to enjoy treats without craving them or eating too many. I use maple syrup, raw honey, and stevia — all in moderation.
8. Be busy, not bored.
Make sure you have things to do to occupy your hands and your mind. Boredom makes any diet change harder!
9. Reward yourself emotionally (either ups or downs) with something other than sweets.
We turn to food when we feel good or feel bad. Let's break that cycle by turning to other (non-food) activities to soothe or celebrate. Like:
a date night
watching a special movie you've been wanting to see for awhile
invest in a hobby (reward yourself with new tools or supplies)
get some sunshine!
prayer — gets us through so much!
a good book, fiction or non-fiction; whatever you enjoy!
music
spending time with someone you love
a walk
10. Keep a food journal so you can have tangible evidence of the ups and downs.
What are your goals in overcoming sugar addiction? Write them down and remind yourself of them often!
You want to especially document the good things that have happened since stopping sugar. This will motivate you to keep going! These are things that I have experienced that I remind myself of often:
clarity of mind
weight loss
fewer mood swings
skin clears up
digestion is better
If you need to keep this list in a prominent place as a reminder, do it!
What about your journey? Are you struggling to give up sugar or sweets? How have you put a stop to sugar addiction?

P.S. Would you like some tried-and-true recipes without sugar to help you stop sugar addiction forever?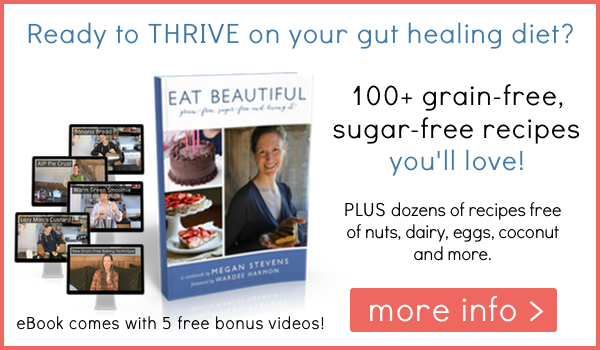 Looking for more nourishing, gut-healing foods that your family will love to eat?
Be sure to check Megan's cookbook: Eat Beautiful: Grain-Free, Sugar-Free and Loving It (softcover version as well).
It contains all the recipes she's perfected through her family's years on a gut-healing diet.
Her eBook and video package is currently 50% off. One of the bonus videos you'll get explains the grain-free baking technique she used to make amazing panini sandwiches when she owned her gut-healing cafe in Eugene, Oregon!
Click here for more info or to buy Megan's book, Eat Beautiful: Grain-Free, Sugar-Free and Loving It for 50% off (plus get 5 bonus videos).
This post is a combination of two posts originally published and written by Megan Stevens and Wardee Harmon on 4/5/16 and 5/20/16 respectively. The posts were combined, updated, and republished on 1/28/22.
...without giving up the foods you love or spending all day in the kitchen!
Ditch the Standard American Diet, get healthier & happier, and save money on groceries...
We only recommend products and services we wholeheartedly endorse. This post may contain special links through which we earn a small commission if you make a purchase (though your price is the same).