Have you ever wondered how to make chocolate chips at home? Homemade chocolate chips (or even better, chocolate chunks) are easy to make! You have complete control over the ingredients — no funky additives or refined sugar needed!
How To Make Chocolate Chips From Cocoa Powder
Some homemade chocolate chip recipes call for unsweetened baking chocolate. Many times these bars contain ingredients we may want to avoid.
Other recipes call for cocoa butter, which can be hard to find. So, is there an alternative?
Yes, there sure is! You probably have all the ingredients in your pantry right now, too… like cocoa powder.
It's extremely easy to make chocolate chips from cocoa powder. You need cocoa powder, a natural sweetener such as honey, vanilla extract, and any other extracts you desire, such as almond or peppermint. Learn how to make your own herbal extracts for flavoring in this post!
In addition, these chips are also dairy-free and gluten-free! If food allergies or sensitivities keep you or loved ones keep you from enjoying the simple joy of chocolate chips, this recipe is a game-changer.
It's also very easy to make sugar-free chocolate chips using cocoa powder. I'll show you how to do both, so keep reading.
Whether you make little chocolate chips or bigger chunks makes no difference, the recipes are the same. Both recipes are not overly sweetened so adjust to suit your tastes as needed.
Making Chocolate Chips From Scratch (Naturally Sweetened)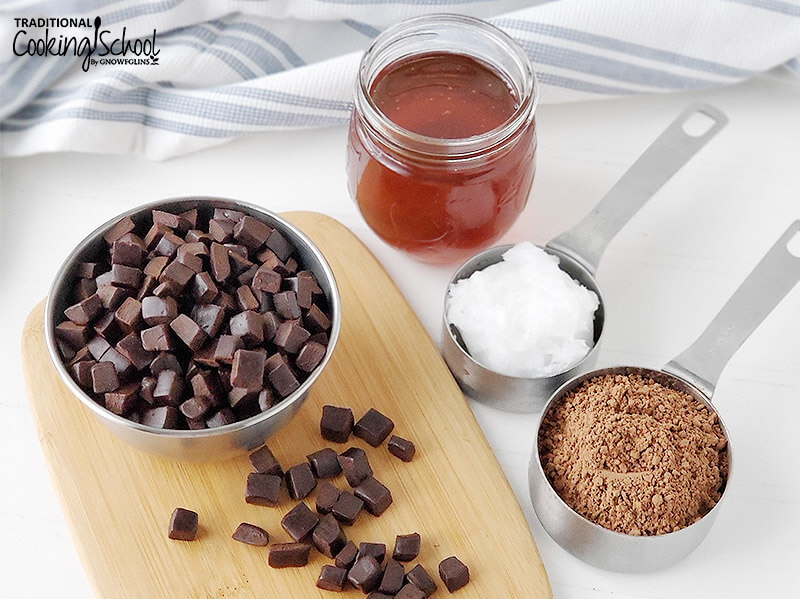 Wardee has a great method for making naturally sweetened homemade chocolate chunks.
First prepare a mold (small baking dish, mini loaf pan, etc.) by greasing with coconut oil. To make the chocolate slab even easier to remove, consider lining the mold with parchment paper.
Since we're using honey, we need to cook it a bit longer than just melting your coconut oil.
Melt coconut oil, add the honey and vanilla (and any other extracts), then bring to a boil. Boil for 2 minutes.
Whisk in cocoa powder until smooth.
Then pour and press into a mold. The mixture will be very thick so make sure you have your mold already prepared.
Finally, refrigerate until hardened, then chop into chunks. This easily takes less than 30 minutes from start to finish.
The result? Healthy, naturally sweetened chocolate chips or chunks to use in baking recipes, smoothies, desserts, or anywhere a recipe calls for chocolate chips. I have lots of recipe ideas for you below!
These honey-sweetened chocolate chips have an absolutely intoxicating aroma. Something about the combination of honey, coconut, and chocolate is just out of this world.
And… they taste amazing, too!
Making Sugar-Free Chocolate Chunks (Stevia Sweetened)
This is how I make stevia-sweetened chocolate chunks.
Feel free to use any healthy non-glycemic sweetener. I prefer using pure stevia extract powder as it does not leave a gritty texture like erythritol or xylitol. (Powder erythritol or xylitol first to avoid a gritty texture.) Also, a little goes a very long way!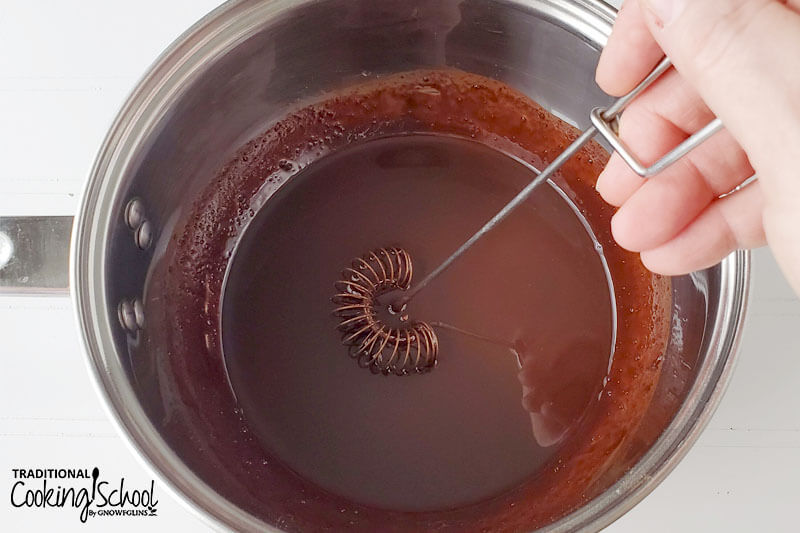 You can skip the boiling step for these sugar-free chocolate chips. Simply melt the coconut oil and whisk in your other ingredients until smooth.
Pour into a mold and refrigerate, then chop into chunks.
How To Store Homemade Chocolate Chips
The honey-sweetened chips hold up better at room temperature than the stevia-sweetened chips. However, they will soften at room temperature so it's best to keep them refrigerated.
You definitely want to store the stevia version in the refrigerator as they melt very easily due to being solely coconut-oil based. This is especially true in the warmer months when our coconut oil is fabulously liquidy and easy to pour!
These homemade chocolate chips are also great for the freezer. Make several batches and freeze to be well-prepared for the baking season!
Of course, this is assuming you'll actually have some to store! They're so delicious, they may get gobbled up right away.
Homemade Chocolate Chips (Naturally Sweetened Or Sugar-Free!)
Homemade chocolate chips (or even better, chocolate chunks) are easy to make! You have complete control over the ingredients -- no funky additives or refined sugar needed!
Ingredients
1/3

cup

coconut oil

+ additional 1 teaspoon

2/3

cup

honey

or 1/8 teaspoon pure stevia extract powder, or other sugar-free sweetener of choice (see notes, below)

1

teaspoon

vanilla extract

1/2

teaspoon

almond extract

or mint extract (optional)

1

cup

cocoa powder

sifted
Instructions
Grease a mold — such as a mini loaf pan, a loaf pan, or a square baking pan — with coconut oil.

Melt coconut oil in a saucepan over low heat.

Once melted, add honey and vanilla.

Bring to a boil, stirring constantly.

Let boil for 2 minutes, while stirring constantly. Remove from heat promptly.

Stir in cocoa powder until smooth.

Transfer to mold. Press down, using clean fingers or the back of a spoon. Smooth top.

Let cool in either refrigerator or freezer.

Cut into chunks or shave.

Enjoy in cookies, ice cream, brownies, cakes, etc. Or eat as-is!
Recipe Notes
This recipe yields 2 cups of the honey-sweetened chocolate chips, or about 3/4 cup stevia-sweetened chocolate chips.
To make this recipe sugar-free: Use pure stevia extract powder (or other sugar-free sweetener of choice) instead of honey. Proceed with the recipe as written, except omit the boiling step. The chocolate will take about 5-10 minutes to chill in the refrigerator or freezer.
Nutrition Facts
Homemade Chocolate Chips (Naturally Sweetened Or Sugar-Free!)
Amount Per Serving (1 Tablespoon)
Calories 48
Calories from Fat 27
% Daily Value*
Fat 3g5%
Sodium 1mg0%
Potassium 45mg1%
Carbohydrates 7g2%
Protein 1g2%
Vitamin C 1mg1%
Calcium 4mg0%
Iron 1mg6%
* Percent Daily Values are based on a 2000 calorie diet.
Best Ways To Use Homemade Chocolate Chips
Chocolate chips are perfect in so many recipes. Here are a few ideas:
Mix into or sprinkle on your favorite ice cream
Blend into smoothies and shakes (use stevia-sweetened chips for Keto and THM:S; add last and pulse a few times to avoid completely blending them in)
Granola and trail mixes/hiking foods (the honey-sweetened variety works best unless you keep the granola or trail mix refrigerated)
Now you know how easy it is to make chocolate chips from cocoa powder! Making chocolate chips from scratch in your own kitchen is also a wonderful way to make sure the treats you make contain pure, healthy ingredients.
How will you use these homemade chocolate chips?
This post was originally published and written by Wardee Harmon on 1/25/08. It was updated and republished on 12/16/19.
...without giving up the foods you love or spending all day in the kitchen!
Ditch the Standard American Diet, get healthier & happier, and save money on groceries...
We only recommend products and services we wholeheartedly endorse. This post may contain special links through which we earn a small commission if you make a purchase (though your price is the same).