Donuts! There's nothing like 'em!
They're nostalgic, indulgent, the epitome of hee, hee naughty comfort food.
I'm all for frying donuts. If you have lard on hand, that's the ticket! But I must say, the advent of the silicone donut pan just makes life easier. As long as you have a good traditional glaze and a tender cake-y texture, baked donuts are a great option. I have not tried to fry this recipe, so let me know if you do. Otherwise, here's my favorite donut pan.
I've created a gluten-free sourdough donut because I believe it best suits where so many of us are in our eating process. Sourdough is awesome because it predigests grains to make them nutritious and gentle. Gluten-free has been a boon of freedom for millions who would otherwise suffer from a variety of symptoms.
This marriage is fun, too! If you don't yet have a gluten-free sourdough starter, keeping it happy is a lot like caring for a low-maintenance pet. Somewhere down the line, ours was named Sally, and although it isn't a name I would have chosen, you can't really change someone's name. 😉 So, it stuck and "she" is a part of our family in addition to our traditional cafe.
At our cafe, we make gluten-free sourdough waffles. But these donuts are raising the bar. They may just become a new staple!
I make this recipe using coconut sugar, sucanat, or organic sugar. You can try honey, too, but keep it mind it makes the batter a little heavier. Dipped in cocoa butter glaze, these lovelies are hard to resist!
Gluten-Free Apple Spice Sourdough Donuts
Donuts! There's nothing like 'em! They're nostalgic, indulgent, the epitome of hee, hee naughty comfort food. These lovelies, gluten-free sourdough and dipped in cocoa butter glaze, are hard to resist! Makes 12 donuts.
Instructions
Preheat oven to 350 degrees Fahrenheit.

Prepare donut pan by greasing it. Coconut oil spray also works well.

Stir together sourdough starter, apple, melted fat, egg yolks, and sugar in a large bowl.

Set aside.

Sift together sorghum, flax seed meal, gelatin, cinnamon, baking soda, xanthan, allspice, and sea salt in a medium bowl.

Set aside.

Place egg whites in a metal mixing bowl and beat on medium-high speed until they become white, foamy, and somewhat voluminous.

Stir dry ingredients partially into wet ingredients.

When they are about halfway incorporated, add foamy egg whites, folding them in.

Combine the three mixes until they are homogenized without over-mixing.

Use a pastry bag or carefully spoon batter into prepared donut pan. Fill cavities almost full.

Bake until puffed, browned, and a toothpick inserted into the center of one comes out clean, about 20 to 25 minutes. Start checking after 15 minutes.

Cool for 20 minutes before popping donuts from the pan.

Prepare a cookie sheet by lining it with parchment paper.

Set aside until donuts cool.

Chill donuts on cookie sheet before dipping to expedite the glazing process, either 10 minutes in the freezer or 30 minutes in the fridge.

Use this time to prepare the glaze (see recipe below).

Once donuts are chilled, dip each donut into glaze, swirling it a bit to evenly distribute the cinnamon and maple syrup.

Flip over and glaze the second side, if desired, as well. Double dip the top side of each donut if you want a thicker glaze.

Replace dipped donut on prepared cookie sheet and proceed with remaining donuts.

Chill donuts until serving or leave out at room temperature if your house is cool.

For crumb donuts, dip wet glazed donuts into a mixture of coconut sugar and cinnamon: 1/4 cup sugar to 1 tablespoon cinnamon.

Donuts may also be dipped in melted coconut oil before dipping in cinnamon sugar, which is easier and more cost effective.

Chill them briefly to help set the oil and crumble.
Cocoa Butter Glaze
A cocoa butter glaze makes donuts even more delicious! I like to double this recipe to glaze donuts on both sides.
Instructions
Melt 1/3 pound cocoa butter from which to measure the 1/2 cup.

In a small, broad, flat-bottomed bowl whisk the glaze ingredients together. They may separate a bit, which is fine.
What's your favorite kind of donut? Will this gluten-free, sourdough version help them to make a comeback in your kitchen? Do you like the idea of baked or fried donuts best?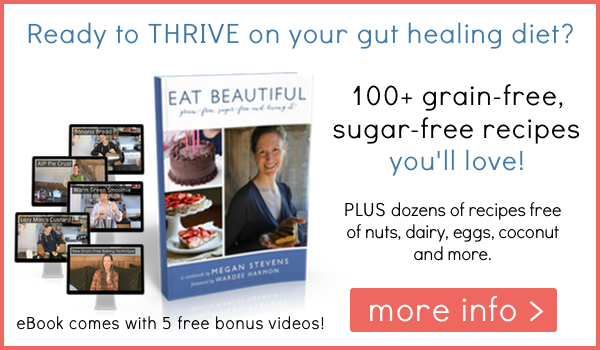 Looking for more nourishing, gut-healing foods that your family will love to eat?
Be sure to check my cookbook: Eat Beautiful: Grain-Free, Sugar-Free and Loving It (softcover version as well).
It contains all the recipes I've perfected through my family's years on a gut-healing diet.
My eBook and video package is currently 50% off. One of the bonus videos you'll get explains the grain-free baking technique I use to make amazing panini sandwiches for our gut-healing cafe in Eugene, Oregon!
Click here for more info or to buy my book, Eat Beautiful: Grain-Free, Sugar-Free and Loving It for 50% off (plus get 5 bonus videos).
We only recommend products and services we wholeheartedly endorse. This post may contain special links through which we earn a small commission if you make a purchase (though your price is the same).