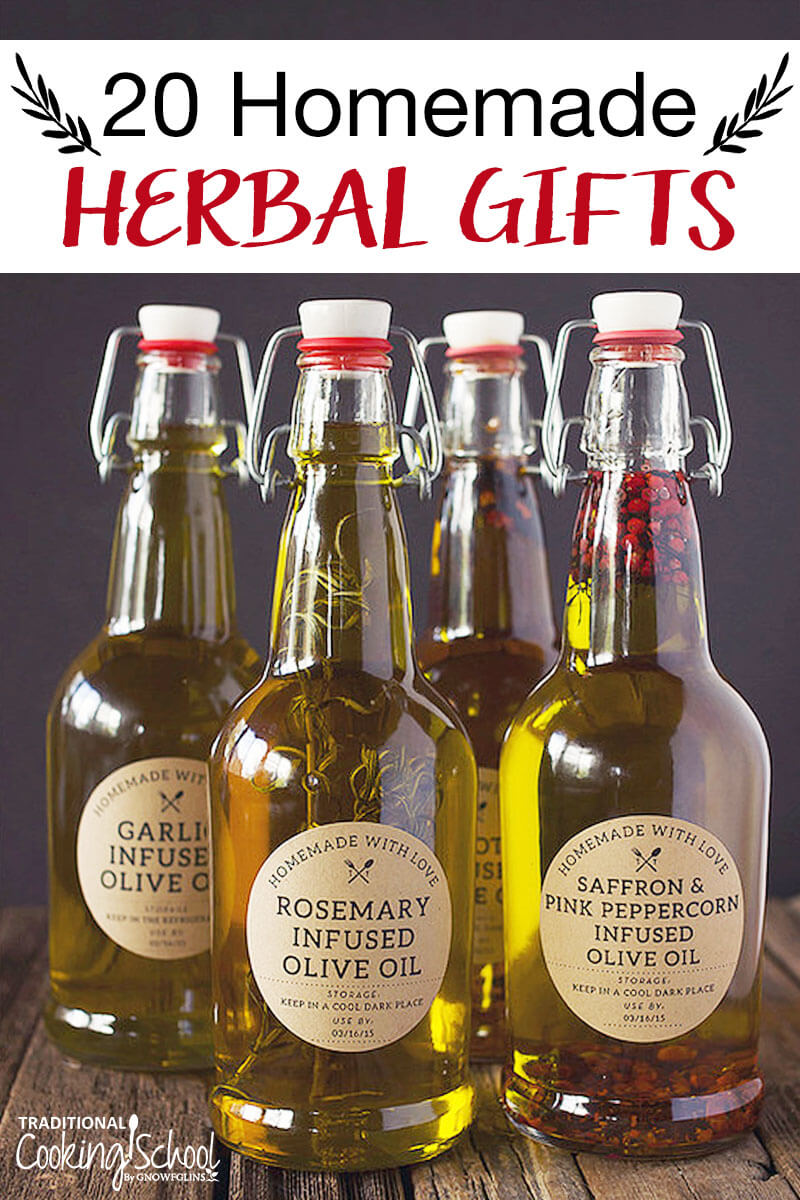 Are you ready to be inspired by herbal gift ideas that are …
Beautiful?
Thoughtful?
Healthy?
Homemade?
You've come to the right place!
We've gathered 20 homemade herbal gifts — including teas, salves, and culinary creations — for everyone on your list.
Teas
Do you have a tea drinker on your list? Surprise them with a homemade blend! 🙂
This autumn herbal tea looks like Christmas in a jar! Via Wicked Spatula.
Homemaker's Helper Tea is full of herbs that support and strengthen a woman's body. It's a thoughtful and health-giving gift for any cherished female friend or family member. Free printable labels add the finishing touch to this gift. Via Strangers & Pilgrims on Earth.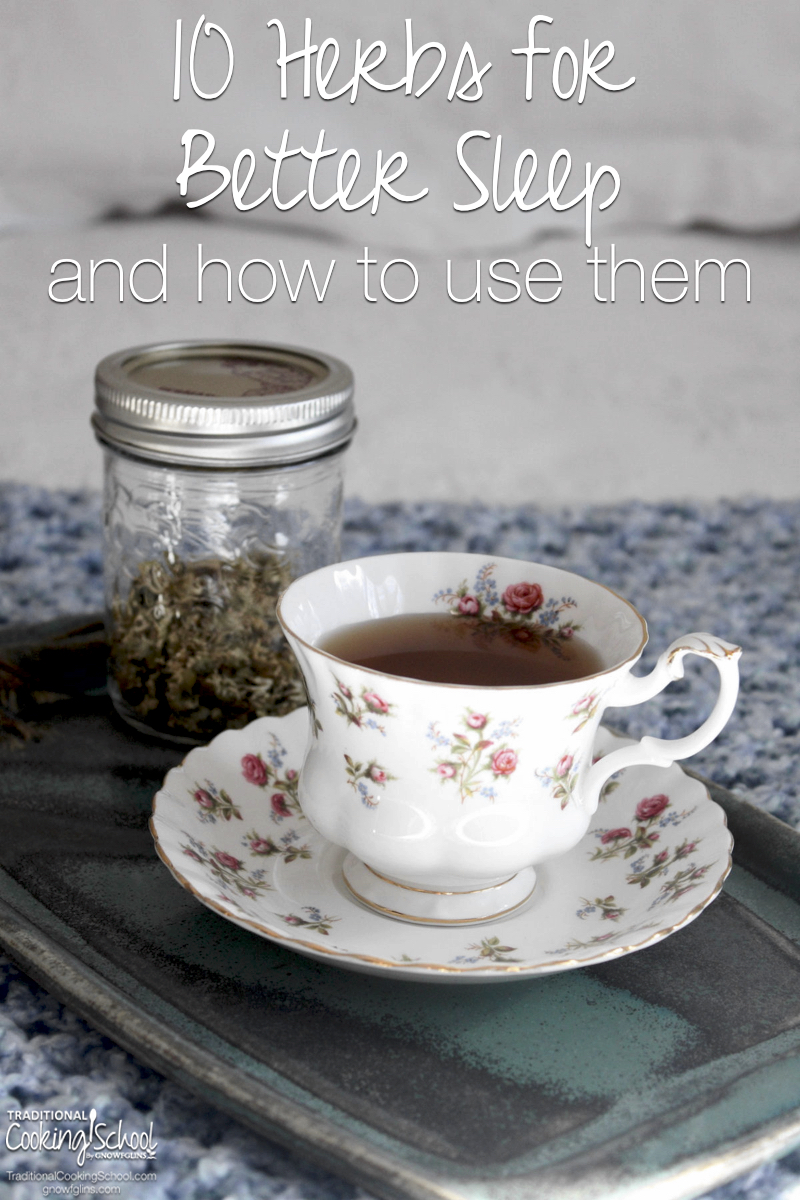 Do you know a shift-worker, busy parent, or someone who struggles to fall asleep? Make them some "sleepy" tea to give them the gift of a good night's sleep. Via Traditional Cooking School.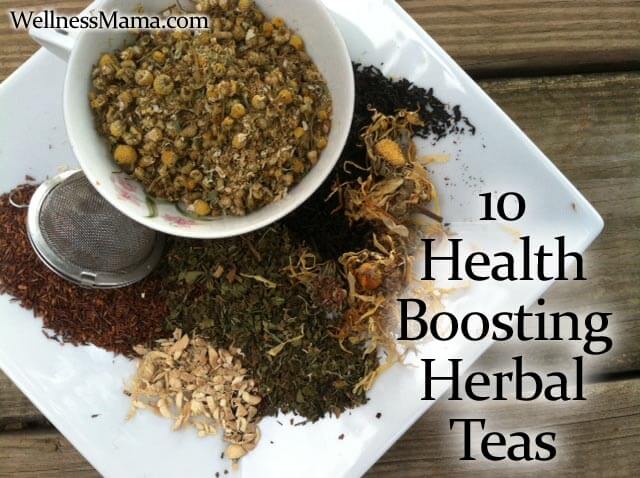 Perhaps you want to give someone a variety of tea blends? Any of these 10 health-boosting herbal teas would be a lovely addition to a tea-drinker's collection. Via Wellness Mama.
Salves & Lotions
Either by themselves or as part of a gift basket, homemade salves and lotions are a wonderful way to show someone how much you care.
If you live in a warm climate, or have a winter traveler on your list, this after sun lotion might be just the thing they need! Via Garden Therapy.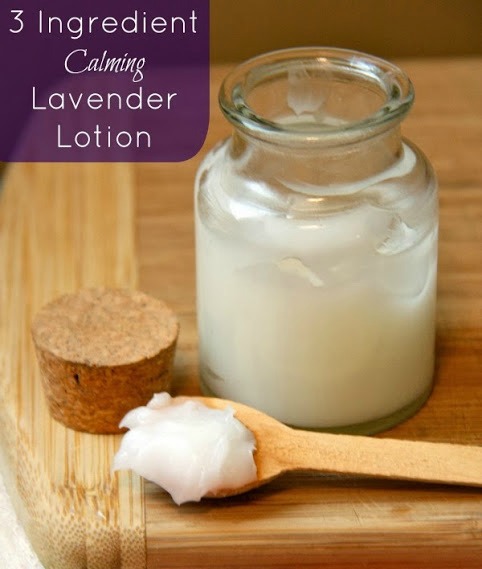 3-Ingredient Calming Lavender Lotion is simple to make, healing, and soothing. Via Primally Inspired.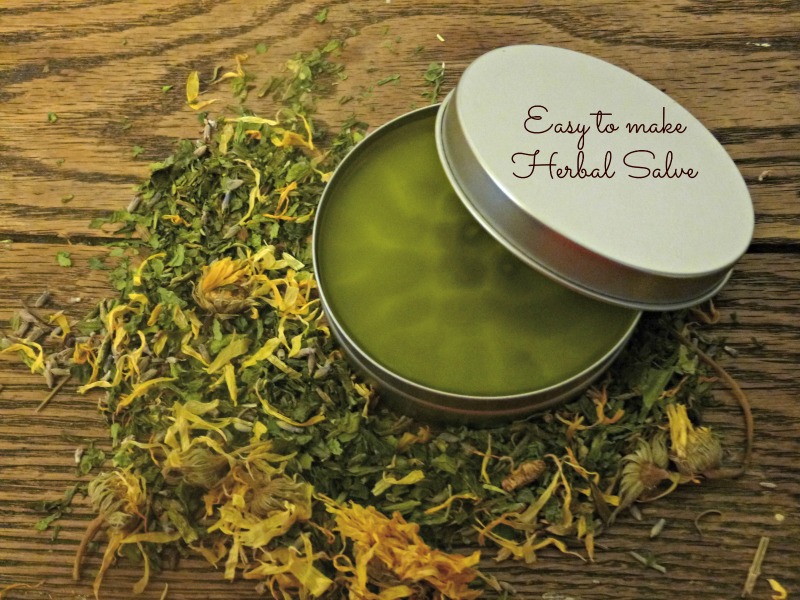 Plantain is an amazing herb and readily available just about anywhere. This herbal plantain salve is a great way to capture the herb's healing properties. Via Delicious Obsessions.
Christmas and peppermint go hand in hand, making this homemade peppermint salve a perfect gift for the season and a wonderful help to anyone suffering from dry skin. Via Return to Simple.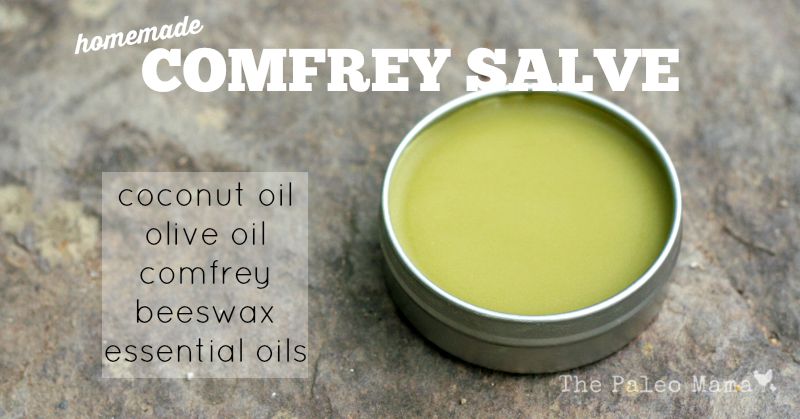 Comfrey is another healing and soothing herb — so this homemade comfrey salve is a great gift for anyone on your list. Via The Paleo Mama.
I like to tuck small jars of calendula salve in with all of my gifts — it's my husband's favorite, and might become your recipient's favorite, too! Via Traditional Cooking School.
An herbal muscle rub is a great gift for the athletes on your list. Via Traditional Cooking School.
Pampering
Who doesn't want to be pampered once in a while? If you can't afford giving someone a trip to the spa, these homemade spa treatments are the next best thing.
This DIY herbal scrub will give the recipient a lovely facial at home, and it looks pretty packaged in a jar, too! Via Naturally Loriel.
Lavender bath salts promote calm and relaxation. Via Garden Therapy.
Make one, or all three, blends of herbal bath tea. Gift and wrapping suggestions are even included! Via Tales from a Cottage.
Candles are always a lovely gift and homemade lavender rosemary candles are made from soy and scented with herbs. Via Live Simply.
Herb-infused honey can be used in the kitchen or for natural skin care. This post includes ideas for both! Via A Delightful Home.
For the Kitchen
When it comes to herbs, we certainly don't want to forget their culinary uses!
Herb-infused vinegars make lovely salad dressings. Via Kara Lydon, The Foodie Dietician.
This Seasons Greetings spice mix in a jar is a perfect tribute to the season, as well as being a practical gift that is easy to make. Via Keeper of the Home.
Make a variety of homemade seasoning mixes and wrap them up together! Via Strangers & Pilgrims on Earth.
Infused olive oil takes a bit more time, but it looks beautiful when presented in a glass jar with the free printable labels. Via Tasty Yummies.
Are you making any herbal homemade gifts this year? What was the best homemade gift you have received?
Main image courtesy of Tasty Yummies.
save time, spend less, and get healthy... simple & delicious traditionally-cooked meals using ingredients you already have... even leftovers... 30 min or less!
Healthy Dinner in 30 Minutes... While Spending $0 Extra!
We only recommend products and services we wholeheartedly endorse. This post may contain special links through which we earn a small commission if you make a purchase (though your price is the same).