Now no one has to be left out! Enjoy these 60+ scrumptious egg-free dessert recipes… from chocolate chip cookies and fudgy brownies, to deep dish blueberry pie and yes, even birthday cake. Many recipes are gluten-free, grain-free, dairy-free, and nut-free, too!
It never fails…
We post a recipe for something awesome, and someone leaves us a comment asking if that recipe can be made without dairy or eggs or nuts.
We don't mind, I promise. At Traditional Cooking School, we love the challenge of creating recipes for EVERYONE! 🙂
And we love sharing the creations of others too — especially when they meet YOUR needs!
An egg allergy or sensitivity can be challenging, especially when it comes to dessert. Many desserts such as cakes, sweet breads, and cookies contain eggs, and making adjustments to those recipes isn't always straightforward.
And yet… it doesn't have to hold you back! That's why we've found, vetted, and collected 60+ egg-free dessert recipes just for you!
Each recipe follows real food, traditional cooking principles. If you are allergic to eggs, you'll be happy to know these eggless recipes are safe to eat and will satisfy your sweet tooth.
You'll also find some non-dairy dessert options in this list too.
Egg Substitutes In Egg-Free Desserts
Before we get to the recipes, let's discuss what these recipes use in place of eggs. Here are a few of the most common options:
#1 — Gelatin
You may be familiar with using gelatin to make gummies and jello, but this beef-based product is a great binder and works well as an egg replacement in many recipes.
To replace one egg, mix 1 tablespoon of gelatin with 1 tablespoon of filtered water at room temperature. Once combined, add 2 tablespoons of boiling water and stir until dissolved.
This works in many baked goods, but can take a little experimenting to get the right amount.
You'll also find gelatin works wonders to thicken homemade puddings make without eggs. (We've got a number of pudding recipes linked below.)
#2 — Flaxseed
A "flax egg" is a classic egg replacement which can be used in most baked goods. It works well in quick breads, such as banana bread, and is perfect for chocolate cakes.
To replace one egg mix 1 tablespoon ground flaxseed with 2-1/2 to 3 tablespoons water. Let sit for 5 minutes to thicken.
As with the gelatin egg substitute mentioned above, this isn't a 100% foolproof substitute. It does, however, work quite well in most quick breads, pancakes, brownies, and cookies.
You can also use ground chia seeds instead of flax. Follow the directions above.
#3 — Fruit Or Vegetable Puree
Mashed banana, applesauce, and mashed sweet potato are three common options used to replace eggs in baked desserts. These do add extra flavor, so only work in certain situations.
1/4 cup of fruit or vegetable puree is approximately equivalent to one egg.
#4 — Aquafaba
The liquid leftover from cooked chickpeas is called aquafaba and may be used to help bind ingredients in baked goods such as cookies.
3 tablespoons of aquafaba is equivalent to one egg. It works well in many cookie recipes.
Aquafaba can also be whipped to form stiff peaks and then included in macaroons and meringues!
If you'd like to use aquafaba, do be sure to soak your chickpeas first, then replace the soaking water with fresh water for cooking. This will ensure your aquafaba is as nutritious as possible.
Egg-Free Bars, Brownie, Blondie & Cookie Recipes
Each brownie, cookie, and bar recipe below is made with nourishing ingredients and includes healthy fats and unrefined sugars.
Dark & Fudgy Sweet Potato Brownies — Chewy and fudgy, these gluten-free and refined sugar-free brownies are better than chocolate lava cake!
Chocolate Walnut Brownies — These gluten-free brownies came about by accident… but they're staying on purpose! Perfectly moist, super fudgy, plus both dairy- and egg-free too!
Vegan No-Bake Brownies — Moist, chewy, and chocolate-y, these no-bake blondies are free of casein, grains, gluten, refined sugar, soy, corn, and eggs!
AIP Coconut Blondies — Autoimmune Protocol compliant, these blondies utilize gelatin as an egg substitute. They are grain-free and dairy-free, too!
Paleo Salted Caramel Blondies — Satisfy your salty-sweet cravings with these egg-free blondies.
Grain-Free Apple Pie Shortbread Bars With Crumb Topping — These bars combine a buttery, shortbread crust with spiced apple pie filling and a streusel-like crumb topping. Mmm!
Cocoa Caramel Bars — Taste a little bit of heaven in these egg-free bars!
Coconut and Avocado Grasshopper Bars — Chocolate and peppermint oil mask the flavor of avocado in these minty green grasshopper bars.
Cranberry Orange Bars — Sweet and tart, the vibrant flavors of cranberry and orange make these bars a truly special holiday treat!
Cake Batter Collagen Protein Bars — These bars capture the flavor of delicious cake batter in a super convenient form!
Chocolate Coconut Bars — Great for a snack just about anytime. No need to reserve for dessert only.
Paleo Double Chocolate Espresso Bars — Free of grains, dairy, and eggs, these decadent bars have a chocolate crust, creamy chocolate layer, all topped with chocolate chips.
Gluten-Free Chocolate Chip Bar Cookies — Save yourself the time of scooping individual cookies and make bar cookies instead!
No-Bake Coconut Snowball Cookies — These no bake coconut snowball cookies are beautiful, incredibly easy, and delicious.
Amazing Chocolate Chip Cookies — Easy to make with basic, wholesome ingredients.
Egg-Free Pie Recipes
We're thrilled to share the following egg-free pie recipes with you, many of which are gluten-free and dairy-free, too.
Deep Dish Blueberry Pie — With gluten-free and Paleo pie crust options, this deep dish blueberry pie ticks all the boxes: flaky crust and jammy filling!
No-Bake Triple Chocolate Pumpkin Pie — A chocolate pumpkin pie that doesn't have to be baked?! Where do I sign up?
Deep Dish Gluten-Free Apple Pie — A healthy twist on a well-loved classic.
Individual Chocolate Hazelnut Pies — These mini pies are so rich, you may just have to split them with someone you love… or not.
Egg-Free Pumpkin Pie — A simple, easy egg-free version of traditional pumpkin pie.
Dairy-Free Fermented Cheesecake — You won't miss the cheese (or the eggs) in this cultured cheesecake!
Easy Banana Strawberry "Ice Cream" Pie — Free of gluten, egg, nuts, and dairy, this deliciously fruity ice cream pie is perfect for a hot day.
Chocolate Cheesecake Pie — This easy chocolate pie comes together quickly and will leave you feeling totally satisfied.
Egg-Free Apple Pie — Warm apple filling oozes out of the center of two perfectly egg-free pie crusts.
Paleo White Chocolate Pie —  This date-sweetened white chocolate pie is low in sugar but high in yummy goodness!
Allergy-Friendly Pumpkin Pie — A pumpkin pie perfect for anyone with sensitivities to dairy, gluten, and eggs.
GAPS Slow Cooker Apple Pie Filling — Apple pie filling so scrumptious, it doesn't even need a crust!
Banana Pudding Pie — This dairy-free, egg-free, gluten-free pie is bursting with banana flavor!
The Best Dairy-Free Avocado Chocolate Cream Pie — Avocados shine as the main ingredient in this chocolate pie. The avocado-haters will never know!
Chocolate Pie + Raw Graham Cracker Crust — Choco-holics, here's a recipe just for you!
No-Bake Mini Cheesecakes — Adorable egg- and gluten-free cheesecakes are a blank slate for the toppings of your dreams!
Paleo Chocolate Peanut Butter Tart — Inspired by our favorite childhood dessert recipe, this tart is flourless, grain-, dairy-, and egg-free.
Egg-Free Cake & Cupcake Recipes
Eggless cakes can take a little practice, but these tried-and-true recipes will help you bake a cake with confidence!
Allergy-Friendly Carrot Cake — This cake cuts perfectly into bars and works beautifully for breakfast or a healthy afternoon snack.
Chewy Spiced Applesauce Cake — Kids and adults alike love this perfectly spiced cake!
Mexican Chocolate Cake with Cinnamon Cream Cheese Frosting — A hint of cinnamon in this egg-free chocolate cake makes this dessert extra special.
The Perfect 1st Birthday Cake — Free of allergenic foods, yet full of nourishing ones, this cake is perfect for baby's special birthday!
Paleo Pumpkin Pie Cupcakes — No flour, no refined sugar, no eggs, no gluten, and no dairy? What DO these cupcakes have!? The perfect bite of pumpkin without the guilt!
Chocolate Birthday Cake — Now, here's a classic chocolate cake you can serve that's safe for everyone at the party! It's gluten-, egg-, and nut-free.
Strawberry Birthday Cake — This beautiful, pink cake without the harmful food coloring is perfect for your little princess and all her friends. It's gluten-, egg-, dye- and nut-free.
No-Bake Watermelon Cake — This cake will play a trick on everyone! Just wait till you cut into it!
Chocolate Pumpkin Cake  — Made with sprouted flour, this cake is super digestible. Plus it's egg- and gluten-free too!
Grain-Free Black Bean Lava Cakes — Beans are the secret ingredient in these delicious egg-free chocolate lava cakes.
Raw Carrot Cake — All the benefits of carrots, walnuts, and raw honey are retained because these cupcakes aren't baked at all! They're totally raw!
Egg-Free Crisp & Cobbler Recipes
Cobblers and crisps are the ultimate dessert comfort food. The following recipes include various fruit combinations for some interesting and unique flavors. Many are also gluten-free as well.
Instant Pot Strawberry Cobbler — Homemade, old-fashioned strawberry cobbler in less than half the time the oven takes? Yes! Enjoy sweet berry perfection in this grain-free, nut-free, egg-free dessert!
Gluten-Free Plum Cobbler — Save this recipe for when plums or other stone fruits are in season!
Grain-Free Blueberry Crumble — This delicious crumble recipe comes together in a flash and could even be served for breakfast!
Gluten-Free Pear and Fennel Crisp — Pear and fennel pair beautifully in this crisp.
Simple, Quick, & Gluten-Free Apple Crisp — It takes no more than 10 minutes to get everything into a pie plate, and you're are hands-free from there! No peeling necessary!
Pear and Pumpkin Crisp —  Inspired by the flavors of fall, this crisp combines pear, pumpkin, and spices to create a gluten-free, egg-free treat.
Rhubarb-Honey Cobbler — The perfect recipe to have on hand when rhubarb season rolls around!
Sourdough Cobbler — This tasty sourdough recipe that can be tweaked to fit your needs and whatever fruits you have on hand!
Egg-Free Pudding & Custard Recipes
Many homemade puddings and custards are egg-based, so it can be a challenge to create egg-free versions. Thankfully, many hardworking recipe creators have gone to work and perfected the process so we don't have to! We've gathered a number of their delicious recipes to share with you.
No-Jello Chocolate Pudding Cups — This pudding contains only 5 ingredients and takes mere minutes to make!
Banana Nut Butter Pudding — Need a dessert that can transform into breakfast… or a breakfast that can transform into dessert? This recipe's for you.
Allergy-Friendly Chocolate Custard — An egg-free custard? Yessir! Thanks to nourishing gelatin, you can have this custard in chocolate or vanilla!
5-Minute Healthy Instant Pot Chocolate Pudding — Gluten-, dairy-, and egg-free, this delicious chocolate pudding is almost too easy. 😉
3-Ingredient Banana Pudding — This chia-based pudding works for breakfast as well as dessert!
Paleo Pumpkin-Sweet Potato Custard — A decadent custard that's bursting with flavor and is dairy- and egg-free too.
Pumpkin Pie Panna Cotta — A totally Real Food pumpkin pie dessert that requires 5 minutes of prep, and no baking!
Caramelized Pear and Coconut Rice Pudding — Coconut, spice, and caramelized pears create a delicious flavor combination.
Vanilla Cinnamon Coconut Milk Pudding — Autoimmune Protocol compliant, this pudding is thickened with gelatin.
Paleo Chocolate Avocado Mousse — Naturally sweetened with dates, completely free of refined sugar, this creamy and eggless chocolate avocado mousse is so easy it takes a mere 15 minutes of prep.
Other Egg-Free Recipes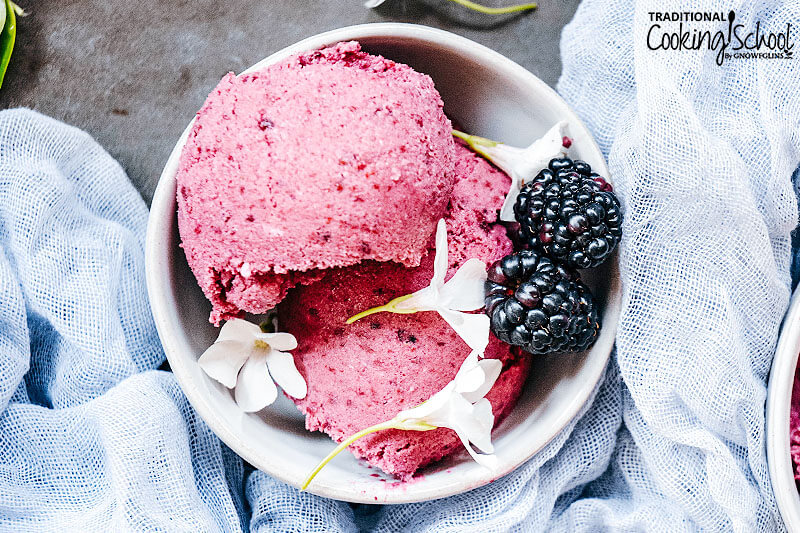 Allergy-Free eCourse
By the way, did you know you can learn to cook around food allergies easily?
Our Allergy-Free eCourse teaches you everything you need to know for cooking and eating well — whether you're gluten-free, grain-free, dairy-free, egg-free, or nut-free!
Learn how to make main dishes, baked goods, and desserts that meet your family's needs!
We hope this round-up of 57 Scrumptious Egg-Free Desserts provides you with some new recipes, especially if you're looking for a special dessert for Valentine's Day!
What scrumptious dessert will you be enjoying? Will your dessert be egg-free?
This post was originally published and written by Lindsey Dietz on 2/08/2016. It was updated and republished on 7/24/20.
Main image courtesy of Nom Nom Paleo. 
...without giving up the foods you love or spending all day in the kitchen!
Ditch the Standard American Diet, get healthier & happier, and save money on groceries...
We only recommend products and services we wholeheartedly endorse. This post may contain special links through which we earn a small commission if you make a purchase (though your price is the same).