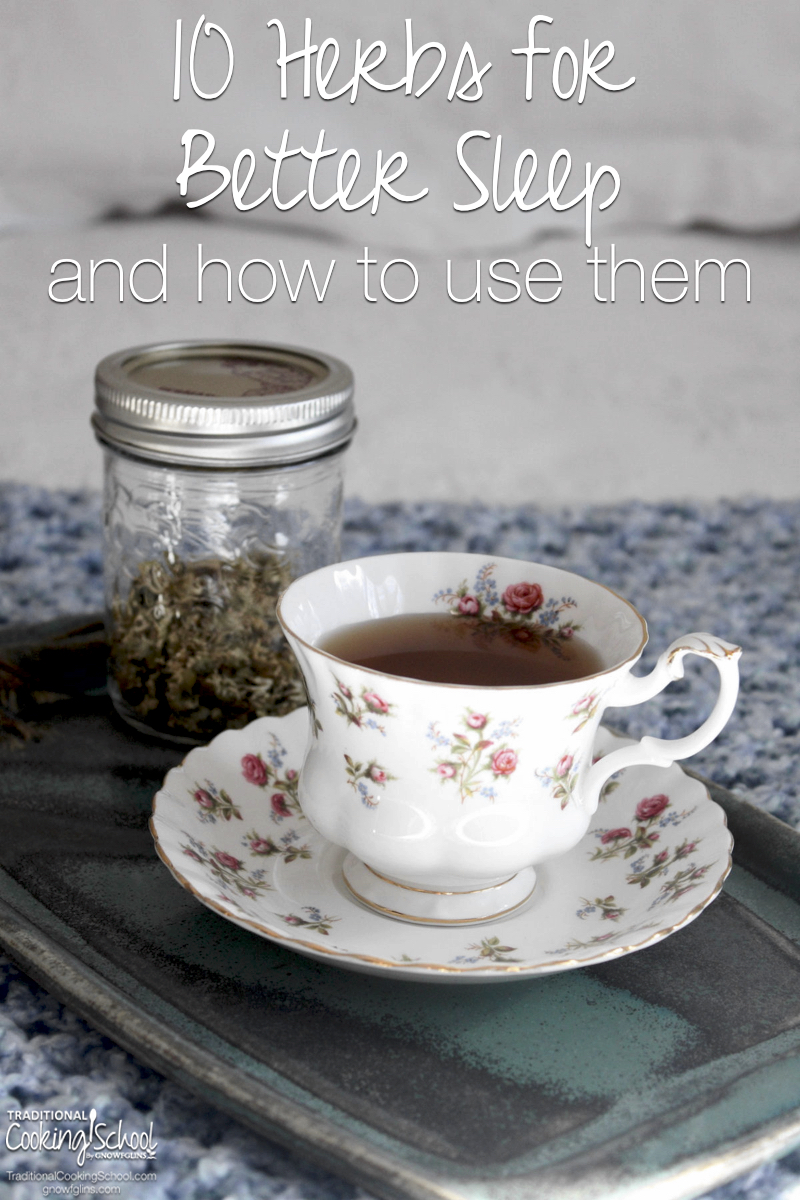 We all know that getting enough sleep is important, for both health and happiness. But many of us just can't get the sleep we need. Whether you suffer from occasional sleeplessness or chronic insomnia, these herbs may help.
After the list of 10 sleep herbs (and why they're helpful), I'll share 3 easy tea blends you could be drinking tonight before bed!
Chamomile promotes sleep with a wonderful calming effect. It is usually taken as a tea before bedtime, and is widely available commercially, but you can also make your own by pouring boiling water over dried flowers and letting it steep for five to ten minutes. If you find it hard to relax at bedtime, or if you suffer from tummy troubles that keep you awake, this is the tea for you!
Please note that those who are allergic to ragweed or asters may also have allergic reactions to chamomile.
Valerian is the most scientifically tested sleep herb. As a long-term insomniac, it is the one herb I turn to again and again. It calms the nervous system, which greatly decreases stress-induced sleeplessness, and can be taken in capsule, tea, or tincture form. I personally have great success with the tincture.
Skullcap is a lesser-known herb — a mild relaxant that relieves nervous tension and anxiety and is thus an excellent sleep aid. It is often recommended in combination with valerian in a tea or tincture.
Lavender is perhaps the most well-known sleep herb, and for good reason. There are many lavender sleep aids available commercially as it has long been known as a muscle-relaxer and sedative. Dried lavender is often made into small sleep pillows, which can be tucked under your pillow, where the scent will help you sleep better all night long. Lavender can also be made into a tea, either on its own, or in combination with other herbs.
Hops helps to relieve anxiety, insomnia, and restlessness. Some sources say it might help to reduce hot flashes during menopause, a definite sleep-disruptor for women! It can be taken in capsule, tincture, or tea form. In a tea, combine with other herbs to reduce its bitterness, or brew with stevia leaf, or stir in some honey.
Passionflower is another sedative herb with scientific backing! Passionflower has a tranquilizing effect, treating insomnia, anxiety, and nervousness. Drink as a tea, either on its own, or in combination with other herbs.
Not just a breakfast food! Oat seeds are often recommended to treat anxiety and exhaustion. The latter is a great benefit for long-term insomnia sufferers. Drink as a tea, usually in combination with other herbs.
Lemon balm has been used to promote sleep since the Middle Ages. It is especially helpful for stress or anxiety-induced sleeplessness. Drink as a tea. It has a lovely lemony flavor. It is often recommended for children due to its gentleness and mild flavor.
California Poppy is a gentle muscle-relaxant, mild pain reliever, and helpful for anxiety, nervousness, and hyperactivity. Can be taken as a tea or tincture, although the tea is bitter. Another mild herb that is said to be safe for all ages.
Catnip has been used as a sedative for at least 2000 years. It has similar compounds to valerian, but is also helpful for colds, fevers, and indigestion. It is usually taken as a tea, either on its own or combined with other herbs. It isn't recommended during pregnancy, but it is deemed safe for use by children.
Deep Sleep Tea Blends
Here are a few tea combinations to put you to sleep!
Relaxing Blend
Simple Blend
To make any of these teas, combine 1 to 2 tablespoons of tea blend with 1 cup boiling water. Let steep for at least 20 minutes. Strain out herbs and drink. Larger batches can be made and stored in the fridge for later use. Some herbalists recommend drinking smaller amounts of tea over several hours before bed, rather than a whole cup at once.
Although herbs are natural healers, many of them (including those listed here) have strong properties and should not be used while pregnant, taken with certain medications, or used by young children. Please seek out the advice of your doctor or natural health practitioner before using.
Do you use herbs to help you sleep? Which are your favorites?
This post was featured in 20 Homemade Herbal Gifts.
...without giving up the foods you love or spending all day in the kitchen!
Ditch the Standard American Diet, get healthier & happier, and save money on groceries...
We only recommend products and services we wholeheartedly endorse. This post may contain special links through which we earn a small commission if you make a purchase (though your price is the same).