"Are we there yet?"
That's the question I ask when the days lengthen, the south winds blow, and the temperature soars above 90 (or 100) degrees Fahrenheit.
I start to fantasize about changing leaves, cool winds, and the end of Daylight Savings Time. I have to admit, I'm a fall/winter kind of girl.
Today I want to share with you the beverage that makes summer bearable for me. It's the drink I whip up in a matter of seconds when my armpits are soaked with sweat by 11:00 in the morning (yes, because that actually happens).
It's my version of a bubbly, non-alcoholic cocktail that detoxifies, invigorates, and allows you to pretend for a few precious moments that you're lying in a hammock on a white sand beach in Fiji… until your son shoots you in the back with his Nerf gun and snaps you right back into reality.
By the way, I'm not against alcoholic drinks. It's just that this one is a little more acceptable for the stay-at-home, homeschooling mother of 2 to have before lunch, ya know? 😉
Ginger, lemon, and apple cider vinegar — the star players in this easy-peasy beverage — rock my world. They're such small, simple ingredients, but each one of them packs a powerful punch to nourish, hydrate, and detoxify your body.
helps heal and protect the gut
relieves nausea, bloating, and upset stomach (morning sickness, anyone?)
boosts the immune system and is an excellent remedy for colds, tummy bugs, or the flu
is a potent detoxifier
clears the sinuses
relieves pain caused by migraines, inflammation, menstrual cramps, and arthritis
is a warming food and can help with low body temperature and/or slow metabolism
Lemon
is a great source of Vitamin C
aids in digestion and can really "get the juices flowing"
is a great detoxifier
can help with constipation
flushes the liver and kidneys
boosts energy and mental clarity
aids in digestion, relieves heartburn and constipation, and increases stomach acid
is super detoxifying
can help with weight loss
is alkalinizing
reduces sugar cravings
Mix these 3 together with some bubbly and raw honey or liquid stevia, and voila, you've got the perfect summer drink. I even love its beautiful color!
There's one small step before you make the actual drink: making a ginger concentrate or ginger tea. It's helpful if you have a juicer so that you can quickly juice the ginger for the "concentrate" and drink your mocktail right away. I'll give two alternatives below — "juicing" with a high powered blender, or making ginger tea.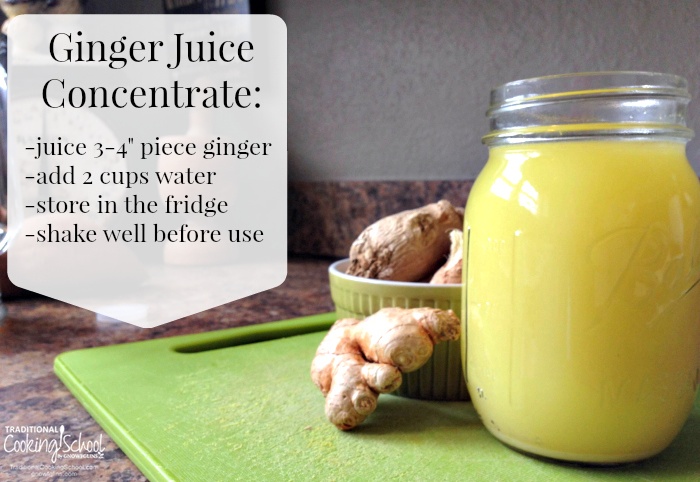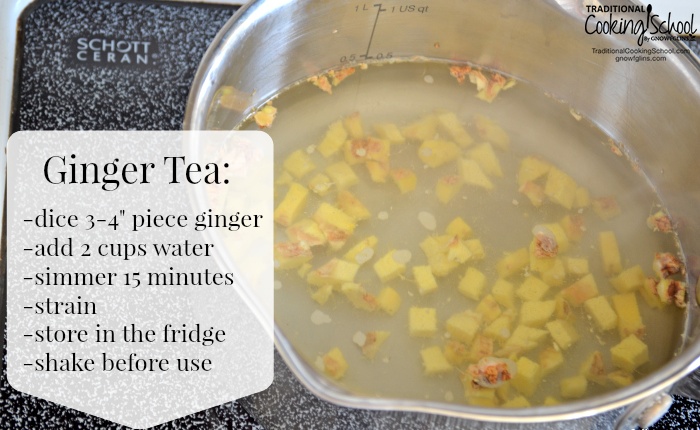 More Summer Treat Fun
We've got 3 more months of sun, beach trips, baseball games, gardening, and sweating ahead of us. Here are a few more "mixed drinks" that you can enjoy year round, but especially this summer!
Will you try my ginger lemon mocktail? What is your favorite refreshing summer beverage?
This post was featured in 92 Nourishing Grill & Barbecue Dishes, Drinks, & Desserts.
...without giving up the foods you love or spending all day in the kitchen!
Ditch the Standard American Diet, get healthier & happier, and save money on groceries...
We only recommend products and services we wholeheartedly endorse. This post may contain special links through which we earn a small commission if you make a purchase (though your price is the same).