Homemade cranberry juice is tart, flavorful, and requires only 4 ingredients. Here's how to make cranberry juice easily at home with a blender or on the stove-top!
When you think cranberries, you think Thanksgiving, right?
I make cranberry sauce every year because I love it and… well, the canned variety simply can't touch homemade.
So, shortly before Thanksgiving, I bought a few bags of cranberries (you know, in case there was a cranberry shortage).
And my husband, who evidently thought I was making cranberry sauce for about 50 people, bought several bags, too. Only, his were the 2 pound kind.
Long story short, after the 3 cups I needed for cranberry sauce, I was left with a boatload of cranberries!
Some I tossed right in the freezer, but most I shoved in the fridge with the intention of making something out of them after Thanksgiving.
But let's face it, after a day of overeating and several of leftovers, who is in the mood for anything heavy or overly sweet? I certainly wasn't.
Then it dawned on me. What about a drink, like juice?
Yes, cranberry juice… homemade fresh cranberry juice!
I'll be the first to admit it, I don't drink juice.
I find the store-bought juice to be a vehicle for nothing but sugar and artificial ingredients. It's not actually nutritious.
Yet, when you make your own, you lose none of the nutrition, preserve the freshness, and are in complete control of the sweetness. Win, win!
So, I blended together mandarins, cranberries, and water. Let me just say, I was wowed!
It was exactly what I needed after all that indulgent food: tart, flavorful, satisfying, and nutritious.
I wasn't the only one impressed with this homemade cranberry juice, though. My kids were equally as smitten!
I did add a little honey to theirs because, I'm no fool, otherwise there would've been protests. 😉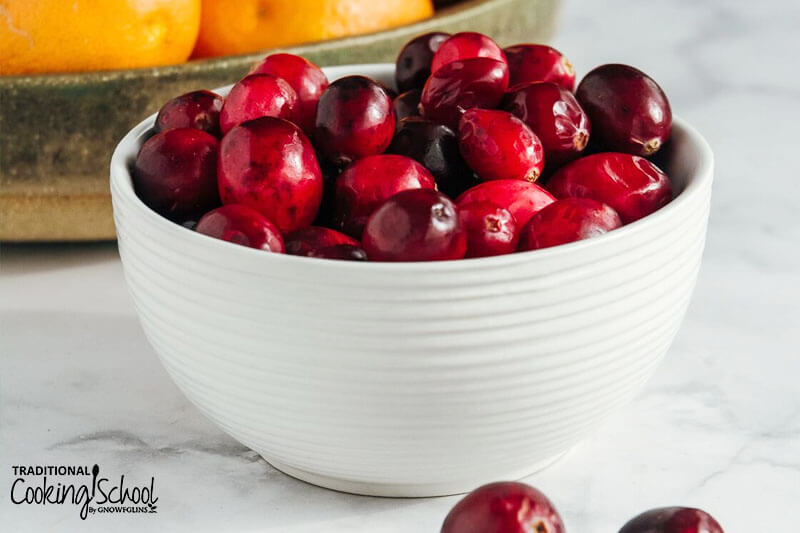 Why To Make Vs. Buy Cranberry Juice
Chances are, if you're reading this article, you're interested in making cranberry juice from scratch because you want to avoid the added sugar, vegetable concentrate, coloring, and more.
Even the seemingly healthy stuff has to have a certain amount of additives and preservatives in order to be shelf stable.
Thankfully, when you make your own cranberry juice, you control everything that goes into it — part of the reason I love making it.
Is cranberry juice good for you?
While cranberry juice is tasty and delicious, it's also nutritious.
Here are a few reasons to consider drinking it on a regular basis. Cranberry juice…
is loaded with antioxidants and polyphenols
can play a role in reducing cardiovascular disease
can improve oral health
fights age-related damage
is high in fiber
has cancer-fighting properties
supports digestive health
is beneficial against bacteria that lead to urinary tract infections
How do you make cranberry juice?
If you've never made cranberry juice at home, rest assured, it is incredibly easy.
I demonstrate two methods below — with the blender and on the stove-top. I prefer the blender version because I can have it right away but the stove-top option is wonderful if you don't have a blender.
To make cranberry juice, you will need fresh or frozen cranberries, pure filtered water, fresh lemon or orange juice (optional; use lemon juice to be Low Vitamin A), and honey, if you like it sweetened.
What equipment do you need to make cranberry juice?
For the blender method, you will need a high-powered blender such as the Vitamix and a fine mesh sieve (better for catching all the pulp) or cheesecloth (my preference).
For the stove-top method, you need only a fine mesh sieve.
What should you do with the cranberry pulp?
Don't let the pulp go to waste! Instead, add it to muffins or breads for tart flavor and extra nutrition.
Or, if you really have no use for it, add it to your compost bin or feed it to your animals.
Let's Get In The Kitchen! How To Make Cranberry Juice At Home
Homemade Cranberry Juice
Homemade cranberry juice is tart, flavorful, satisfying, nutritious... and requires only 4 ingredients. Here's how to make it easily with a blender or on the stove-top!
Instructions
Place cranberries and water in a blender and blend on high for 2 minutes.

Check to see if there are any solid cranberry pieces left, and if there are, blend again until they disappear.

Strain through a fine mesh sieve or cheesecloth.

Stir in lemon or orange juice and sweetener, if desired. I prefer mine unsweetened, but it might be too tangy for some.

The juice keeps in the fridge for a few days.

If you have a high speed blender, and don't mind pulp in your juice, consider skipping the straining step and get the benefits of the whole cranberry!
Recipe Notes
Stove-Top Method
Place cranberries and water in a pot and bring to a boil.
Turn the heat down and allow the cranberries to simmer for about 20 minutes. The berries should pop open, and the water will turn a bright red.
Pour the mixture through a fine sieve.
Add sweetener to taste. I drink mine completely unsweetened, but most find it too tart. Freshly-squeezed lemon or orange juice also helps to brighten the flavor of your cranberry juice.
Although the strained cranberry "pulp" in this recipe has lost much of its nutrients and flavor into the water, I can't bear to throw it away. Instead, I use it to add a little extra moisture and flavor to muffins or breads.
Nutrition Facts
Homemade Cranberry Juice
Amount Per Serving (0.5 Cup)
Calories 3
Calories from Fat 9
% Daily Value*
Fat 1g2%
Sodium 1mg0%
Potassium 5mg0%
Carbohydrates 1g0%
Protein 1g2%
Vitamin A 4IU0%
Vitamin C 1mg1%
Calcium 1mg0%
Iron 1mg6%
* Percent Daily Values are based on a 2000 calorie diet.
Looking for other cranberry recipes? We've got you covered!
Do you love cranberries? What is your favorite way to use them? Have you ever made homemade cranberry juice?
This post was originally published and written by Andrea Sabean on 11/30/15. It was updated and republished on 1/27/20.
...without giving up the foods you love or spending all day in the kitchen!
Ditch the Standard American Diet, get healthier & happier, and save money on groceries...
We only recommend products and services we wholeheartedly endorse. This post may contain special links through which we earn a small commission if you make a purchase (though your price is the same).