Is it possible to follow Trim Healthy Mama WITH traditional foods and still lose weight?
Absolutely.
Do you have to loosen your nutrition standards?
Absolutely not.
I'm here as proof! Between 2014 and 2015, I lost more than 30 pounds using the Trim Healthy Mama plan and traditional foods. I posted that story right here (and here on my podcast).
But how did I do it while sticking true to traditional food principles — like using whole foods, real fats, cultured dairy, and sourdough?
While the Trim Healthy Mama diet is one of the cleanest I've seen, still there are some things about it that aren't quite as "purist" as we traditional foodies would prefer.
THM is written by 2 sisters — one of them has a traditional food bent and the other likes to use the microwave. (They are both sweethearts, though, and I'm so thankful they shared THM with the world!)
I've already shared a bit of how THM and traditional cooking worked for me — check out A Baker's Dozen Of Tips For Doing Trim Healthy Mama With Traditional Foods and If I Were Starting Trim Healthy Mama With Traditional Foods All Over Again….
I continue to get questions, though. So I'm planning to write several posts this year with more info for you…
(let me know in the comments what else you want to know!)
…starting today by sharing the 19 traditional, whole foods you need to start Trim Healthy Mama yourself — the purist "way". 🙂
19 Foods You Need To Start Trim Healthy Mama With Traditional Foods
Below is a list of the 19 foods/food groups I find essential for doing Trim Healthy Mama with Traditional Foods. You can combine them in so many ways for satisfying variety, nutrition, and most relevant to today's discussion… weight loss!
Is it exhaustive? No. Will it get you started? Yes!
Disclaimer: I'm sharing this list from my own experience and it will make sense after reading the book. Please get the book to put this list in context with the whole diet plan.
New to this series? Also check out my prior posts that give more back story behind THM and my experience with it: A Baker's Dozen Of Tips For Doing Trim Healthy Mama With Traditional Foods and If I Were Starting Trim Healthy Mama With Traditional Foods All Over Again….
A Few Basic Notes
In Trim Healthy Mama, you avoid eating both types of fuels (fat and carbs) in any given meal or snack. While always eating protein; it's important.
This principle of what types of foods to eat when helps you keep your overall caloric load to what you need; and because you're not eating too much, your body cannot store excess as fat. This is my simplistic explanation that the book explains more fully.
The meals and snacks are composed of either carbs and protein (E meals) –OR– fat and protein (S meals). That's how any one meal or snack provides your body with just one fuel source — and therefore nothing extra to store as fat.
Individual foods are labeled E or S as well, depending on what they bring to the table. And some foods are "fuel neutral" which means they are either mostly protein (FP for Fuel Pull).
In the list below, I will put E, S, or FP by each ingredient so you know what it is. Please keep in mind that if you use a FP food in an S or E meal, the finished dish is not FP, but rather S or E!
1. Low-Fat Cottage Cheese — FP
Cottage cheese is oh-so-amazing on this diet! It's neither a significant source of carbs or fat, only protein, so it can be used with any meal or snack.
I blend it and season it to make "mayo" or salad dressings. I blend it with frozen berries and stevia to make Cottage Berry Whip — a recipe in the THM cookbook. I eat it plain or salted to boost the protein of a meal. I scoop it onto dishes for a bit of sauce.
We go through a lot of cottage cheese. 🙂
Here's how to make it (use skimmed milk and don't add more cream at the end), or purchase an organic low-fat cottage cheese from the store. When we lived in Indiana, I was thrilled to find that Kroger had an organic, low-fat cottage cheese for a great price!
2. Low-Fat Yogurt — FP
Like the cottage cheese, yogurt is another amazing fuel neutral food that goes with any meal or snack — smoothies, salad dressings, or just eat it with berries and stevia.
Yogurt is healthier and works better on THM if you make it yourself. One reason is you can add gelatin — which thickens it and is really good for us. Also, you can ferment it for 24 hours to completely reduce the lactose (milk sugar).
If using non-homogenized milk, the cream separates to the top during the culturing, and you can skim it away after its chilled. This means you can turn your yogurt into a Fuel Pull (only protein, neither fat nor carbs). Then use the skimmed sour cream in S meals or to make cultured butter.
If using raw milk and using the gelatin to thicken it (because raw milk yogurt doesn't set up without gelatin added), it's more diverse in probiotics than yogurt made with pasteurized milk.
Here's how to make homemade raw milk yogurt using your Instant Pot. Or go here for my recipe that uses a dehydrator (you could use a cooler instead).
3. Full Fat Cheese — S
Although you can't have full-fat cheese in your E meals (too much fat), enjoy it fully in your S meals — fried eggs, meat with salad.
(In your E meals, use cottage cheese or yogurt as toppings instead.)
4. Eggs — S or FP
Fried eggs (S), egg whites for Trim Healthy pancakes (E), egg yolks in homemade mayonnaise (S). Eggs are versatile, and you will use a lot of them!

5. Natural Meats — S
Protein, protein, protein. It's a big need we have anyway. And on Trim Healthy Mama, you want good protein at every meal or snack.
My favorites: wild salmon, grass-fed beef, organic/pastured chicken.
Grass-fed beef is naturally lean protein and therefore can be combined with fat for an S meal or carbs for an E meal.
Wild salmon is a naturally lean protein which can be combined into either an S meal or an E meal.
In chicken, the dark meat is higher fat (for S meals) and the light meat is lower fat (for E meals). Separating the two types of chicken meat is easy to do — and I do it all the time.

6. Berries — E
Berries are a low-sugar fruit (except blueberries, so use less of those). No matter what, you don't eat a ton of them — 1/2 cup or so. They are wonderful in smoothies, ice cream, or plain. You've got to try the Cottage Berry Whip from the THM cookbook — it's so good!
I make a berry sauce just with thawed mixed berries, stevia, chia seeds, and lemon juice. It's wonderful with yogurt or on ice cream. This is a staple for the whole family — not just me who follows THM. 🙂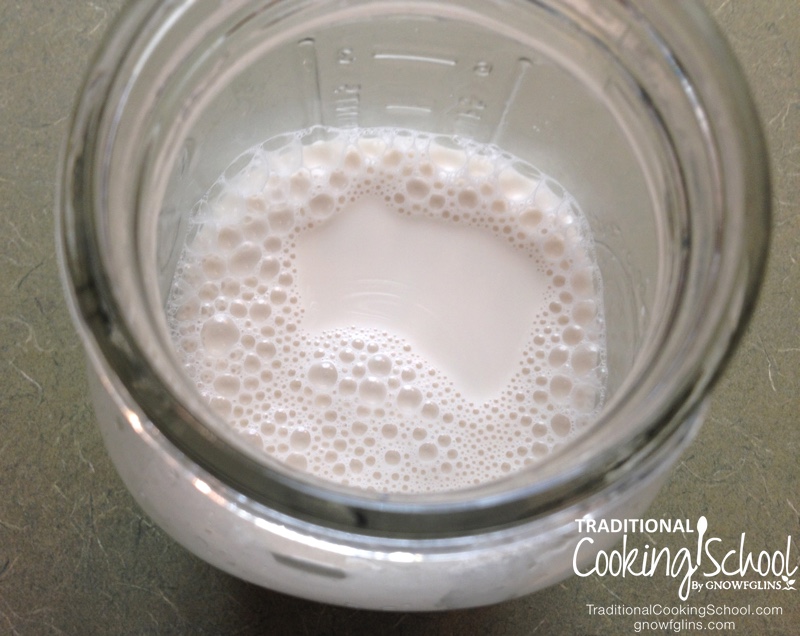 7. Nuts & Seeds — S or FP
Milk is a no-no because of the lactose (too much sugar), yet you may still need milk for smoothies, adding to tea, or for other recipes like sauces or desserts. Homemade nut and seed milks to the rescue! They're easy — blend nuts/seeds with water, add stevia and pinch of salt.
While seeds like chia and hemp don't need soaking, nuts like almonds do (unless you buy them already soaked and dried). Go here to get all my recipes and how-tos for homemade milk substitutes.
Also, I add chia seeds to all my smoothies as a source of fiber and energy.
8. Butter & Coconut Oil — S
You'll use coconut oil and/or butter in all your S meals — like fried eggs. Just like they're staples of the Traditional Food diet, they're staples in Trim Healthy Mama, too.
With coconut oil and stevia, you can make your own chocolate desserts, like the popular Skinny Chocolate from the THM cookbook.
9. Herbs & Spices — FP
Real Salt, pepper, garlic, herbs like parsley and basil, etc… these are the spice of life… and THM meals. 🙂 You'll need these for your salad dressings, meat dishes, veggies. Flavor!
In addition to purchasing organic, non-irradiated spices (like from Frontier or Wilderness Family Naturals), I recommend you store your daily use herbs and spices in these glass, light-proof, air-tight herb storage jars. They'll stay fresh and potent for months!
10. Raw Apple Cider Vinegar — FP
Salad dressings, healing beverages… raw ACV is a staple on THM.
11. Coconut Flour — FP
Coconut flour in E baked goods helps keep the carb count down. I wouldn't recommend subbing it in your regular-flour recipes; start with THM recipes that are written for coconut flour.
Along with psyllium seed husks, coconut flour is the base for the awesome FP wraps/tortillas I make. They work with S or E meals because they're fuel neutral.
You'll find this recipe in our Allergy-Free Cooking eCourse or Allergy-Free Cooking eBook.
12. Psyllium Seed Husk — FP
I have just 1 purpose for organic psyllium seed husk, though I'm sure we could come up with more. They go in the coconut flour wraps I mentioned above. They are a GREAT source of fiber as well.
13. Dark Chocolate — S
Most of the time, I'm completely satisfied with a square or 2 of dark chocolate as a treat. I purchase bars ready to go, or I make Skinny Chocolate from the THM cookbook. (If making it yourself, you'll need cacao powder, stevia, vanilla, and coconut oil.)
14. Stevia — FP
This is my sweetener of choice for nearly all sweetened foods — beverages, smoothies, desserts, sauces, and more. Stevia is an herb that tastes sweet without being sugar. It's super concentrated and a little goes a long way!
My favorite brand is Sweet Leaf. I have the tabs, liquid, and powder on hand.
15. Sourdough Starter +Flour — E
On THM, you can still eat bread. Only you want to eat small amounts and preferably soured. This is because the souring reduces the starch; the sourdough culture has eaten it during the souring time.
Well, our no-knead sourdough and the english muffins are not only super easy, they're sourdough, and they have no fat in the dough or for cooking. (Go here for my free no-knead einkorn sourdough bread — also includes instructions for making your sourdough starter.)
These are the only breads I eat, and I use einkorn grain because it has less gluten and starch than modern wheat. Einkorn is better overall for me, because modern wheat triggers the return of my seasonal allergies. We have a whole class on einkorn inside Traditional Cooking School.
So for this item, both a sourdough starter and your flour of choice are needed.
Also, THM pancakes make great breads. I use pre-soaked oats in the recipe. It's a recipe where you blend oats, egg whites, and cottage cheese together and fry up like pancakes. Use as bread. (See photo below; scroll down to just above #18.)
16. "Noodles" — FP or E
In a crossover meal or in an E meal, a small amount of brown rice noodles is allowed. Most of the time, however, I choose to use noodles made from veggies instead — shredded cabbage, spaghetti squash, or zucchini run through a spiralizer.
A light steaming or saute is all that's needed for the cabbage and zucchini. Spaghetti squash can be baked in the oven, or about 40 minutes on HIGH in the Instant Pot does the trick. (Don't forget to pierce it a few times, put it on the rack, and add 1 to 2 cups of water!)
I had uncomfortable digestive reactions to the Shirataki noodles — but many use these noodles and love them!
17. Salad Veggies — FP
Keep having those salads! They'll fill you up, plus they're a wonderful vehicle for protein. I love to have a hamburger atop a salad (S) instead of on a bun. Or a salad with wild salmon on top.

18. Rice, Quinoa, Oats, & Other Grains — E
Eat small portions of rice, quinoa, or oats for breakfast, lunch or dinner — porridge, pancakes, or as the base for a meaty sauce. As long as you keep the other ingredients low-fat and high-protein, you're still on plan for your E meals.
I keep pre-soaked oats on hand for making Trim Healthy Pancakes from the cookbook. They're a wonderful lower-carb pancake that's great for breakfast or making sandwiches.
Here's how you soak and cook various grains the traditional way for maximum digestibility and nutrition.
19. Beans — E
Same idea as grains. When we keep the overall fat in the meal down, and eat small portions, then we can enjoy beans in chilis or soups and stews.
And of course, for maximum digestibility and nutrition, always soak or sprout your beans before cooking.
And that's it! 19 foods you need to start Trim Healthy Mama TODAY without giving up or compromising Traditional Foods.
What traditional foods would you add to this list? Please keep me posted how it goes for you!
Looking for more Trim Healthy Mamma Tips?
...without giving up the foods you love or spending all day in the kitchen!
Ditch the Standard American Diet, get healthier & happier, and save money on groceries...
We only recommend products and services we wholeheartedly endorse. This post may contain special links through which we earn a small commission if you make a purchase (though your price is the same).