It's hard work to find natural, non-toxic and anti-aging makeup, hair, and personal care products… that actually work!
Today's cosmetic industry is poisoning us through ingredients that lead to cancer, toxic load, chemical sensitivities, birth defects, hormone imbalances, and much more.
In fact, conventional skin care and beauty companies routinely use over 1,500 ingredients that are known to be harmful! Shocking! See the list of ingredients that your beauty products should NEVER contain here.
So we don't want to use those conventional products… but we want to feel beautiful. It's easy to see how they've crept into our makeup bags (I've been there myself).
Ladies, I'm here to tell you that you don't have to sacrifice your health to look and feel beautiful. There are non-toxic personal care products that are safe and natural… and that you'll love to use!
For years, I've been chipping away at finding the right items — that work and are natural — and I think I'm nearly there. 😉
So, in this week's #AskWardee, I'm showing off my purchased and homemade, natural, non-toxic, and anti-aging makeup, hair care, and skin care products. I hope they will give you hope that you can look and feel beautiful without sacrificing your health!
Check out the particulars below in print, podcast, or video.
Original Podcast
Subscribe to #AskWardee on iTunes, Stitcher, YouTube, or the Podcasts app.
Video Update
Original Video
The Question: What Makeup & Other Natural Products Do You Use?
I've asked received countless questions like this over the last year or so. Here are just 2 of them:
Lisa M. asked:
I'm curious to know what your make-up routine is, or more specifically, what products do you put on your face?
And Wanda O. added last week (when I mentioned today's topic was coming up):
I love your hair, and I have curly hair, too, so I hope you share what you do for your hair during next week's video! Thanks.
My Answer: My Natural Makeup, Hair & Personal Care Routine
Below, I'll list all the products I use — both purchased and homemade.
First, though, I want you to know that it's taken time to get the point where I can say that everything I use is non-toxic and natural — and quite a few (the facial care) help with aging. It takes time and money to try out products to find the ones that are not only non-toxic, but actually work!
There are lots of natural makeup companies out there… I don't have enough money nor enough time to try them all! If you love certain companies/products that are 1 to 3 on EWG's skin care database (explained below), please share in the comments!
As you'll see below, my favorite is Beautycounter, a company whose mission is to get safer products into the hands of everyone. Not only do they avoid the use 1,500 harmful or questionable ingredients that are commonly used by other skin care companies, their products really work to nourish and renew skin.
If you like the products and think you'll use them regularly, I highly recommend adding a Band of Beauty membership to your order. For just $29, you'll get a free gift (over over $5)), plus 15% product credit and free shipping on orders over $100 for an entire year. And… if your order subtotal is $200* or more, I'll throw in a free gift worth $39! When you checkout, be sure to select Wardee Harmon as your referral name, because I have special rewards for Band of Beauty members, too!
*Calculated before tax, shipping, Band of Beauty membership, or product credit. Your gift ships separately because it will come from me. 🙂
How To Find Out If A Product Is Non-Toxic
Environmental Working Group (EWG) offers a fantastic Skin Deep skin care database. Use this free online service (or they have an app) to look up your products and find out what the product is rated overall and even how each ingredient ranks.
I look for products to be rated between 0 to 2 (considered safe). Occasionally, I'll consider a 3.
If the product itself is not listed, I check the individual ingredients and make sure none are over a 3 (ideally 0, 1, or 2).
My Natural And Safe Anti-Aging Facial Care…
I admit it; I'm working on hard on keeping my face and skin looking youthful for as long as possible. So here are the products I use to cleanse, protect, and renew my face (and neck). Most of the facial products I list here come from Beautycounter's Countertime Skin Care Line, which contains two key plant ingredients — bakuchiol and alpine rose — that have amazing anti-aging properties. In fact, bakuchiol is shown to be as or more effective than retinol in one study! (Retinol has serious side effects and rates a scary 9 on the EWG scale, so it's great to avoid it and use something else instead.) The Countertime line is specifically for dry or aging skin, but it also works really well with oily/combination skin like mine. I still can hardly believe it exists — my skin loves it, doesn't react to it, and feels nourished while it looks renewed! I love it so much!
Beautycounter has other skin care collections, too! Click here and I'll share a chart with you that will help you choose the right products for YOUR skin type, goals, and needs.
Face Cleanser — I use the Beautycounter Countertime Lipid Defense Cleansing Oil. It's an oil-based cleanser, that even works with my oily/combination skin. You rub it on and it even removes eye makeup, then put water on your hands and rub more to turn it into a cleansing milk, then rinse off with more water. I love that it doesn't leave me oily —OR— feeling dry.
Facial Toner — I use Beautycounter Countertime Mineral Boost Hydrating Essence. It's more than a toner because it contains more active ingredients to prepare the skin for the steps coming later. No cotton pads needed, as you tap a bit of this light gel out of the bottle into the palm of your hands, then tap/pat it all over your skin, even your neck. It feels so fresh and any time I skip it, the rest of the steps don't work as well.
Acne Spot Treatment — I used to use Mary Kay's spot treatment with benzoyl peroxide (it was my one hold out from years ago when I had to stop using MK due to reactions) but now I am thrilled that I get to use Beautycounter's SOS Acne Spot Treatment! It's a must for everyone who gets unexpected breakouts! It has salicylic acid (instead of the harsh benzoyl peroxide) to penetrate pores in order to reduce blemishes and clear skin. It's an invisible gel and treats breakouts without over-drying. Beautycounter also has an All Over Acne Treatment that I use on the back of my arms for my KP rash.
Face Serum — In the morning, I use the Countertime Tripeptide Radiance Serum. I can vouch that it instantly and visibly improves skin firmness and elasticity (it feels so good and I get an instant visual improvement) while over time, reducing the appearance of fine lines and wrinkles. This is my favorite product in the Countertime line. This serum can be interchanged with Beautycounter's #1 Brightening Oil, another of the facial oils, or the Overnight Resurfacing (no-peel) Peel (peel used pm only). The peel is absolutely amazing! It contains 8 renewing acids and 5 soothing acids. I can tell it's working when I put it on because my face gets a little warm, in a good way! And the very first night I used it, I woke up the next morning with younger-looking skin. Which is amazing since it doesn't contain anything harsh like retinol.
Face Moisturizer — Because I tend toward combination/oily skin, I can't use many lotions on my face. And it's no surprise why — most conventional lotions contain silicones or mineral oils that clog pores. Not so the moisturizers from Beautycounter! The Countertime Antioxidant Soft Cream (day cream) and Countertime Tetrapeptide Supreme Cream (night cream) really work for me without causing breakouts — and surprise! moisturizing makes a big difference in the youthfulness and hydration level of my skin! I use the day cream in the morning and the night cream at night before bed.
Eye Cream — I used to use Beautycounter's Countermatch Eye Rescue Cream. It's soothing and relieving and helps a lot with eye strain, reducing puffiness, and lightening under-eye circles. Now that Beautycounter has the Countertime Ultra Renewal Eye Cream out, I use it instead for the increased anti-aging power… reduction in the appearance of under-eye shadows and crow's feet. My eyes are sensitive and these are the first eye creams I can actually use without burning.
Beautycounter has other skin care collections, too! Click here and I'll share a chart with you that will help you choose the right products for YOUR skin type, goals, and needs.
My Natural And Non-Toxic Makeup…
Foundation/Powder/Concealer — I use the tint skin hydrating foundation in Linen and the touchup concealer pen in Light from Beautycounter.
I used to use 100% Pure products. I would use the powder foundation daily and concealer when I had issues. 😉 Plus, this Bamboo Blur Powder is great for spot treating shine (very important for me since I go on camera a lot!).
Blush — I use homemade blush or the satin powder blush from Beautycounter. I used to use one of the 100 Percent Pure palette for both blush and flesh tone eye shadow.
Making your own blush is so easy… and fun! You combine a bit of rose red mica powder or beetroot powder with as much kaolin white clay (matte) or arrowroot powder (shimmery) to tone down the pink to the hue you like. You can also add some cocoa powder (or carob) to make it more bronze. Put it in a metal tin and apply it with a makeup brush.
I, my daughters, and dearest friend Megan from Eat Beautiful spent an afternoon making our own blush and eye shadow… It was so fun!
Eye Shadow — I use homemade eye shadows and I also really love the pressed eye powders from Beautycounter (I have the Romantic palette as well as others). I stick with neutral shades or light shades with a bit of glitter.
For some time, I used the 1st and 3rd colors in this 100 Percent Pure palette as eye shadow. When they started running out, I decided it would be fun to make my own. Here's how:
I combine mica powder(s), clay, and real food powders to create the colors I want. Then, I put them in these containers and applying with a makeup brush. As you can see in the photo above, it's really fun to make shadows and blushes!
The color options are exciting:
Color bases can be combined or blended with each other and also with arrowroot powder or white clay to create lighter shades or in-between shades. For instance, I combine cocoa, white clay, maca, and rose red mica for flesh tone eye shadows.
Psst… I'm showing you how to make your own blush and eye shadow in our upcoming Women's Health eCourse! In this eCourse, we're sharing health information and consulting experts so we can bring you solid information and gobs of recipes to nutritionally support women of all ages!
Eye Liner — The hardest thing for me to find was natural eye liner. I tried a half dozen before I found one that was non-toxic and also performed well (Beautycounter's eye pencil). I needed it to apply easily (like a crayon) and not smudge or run throughout the day. It actually looks as fresh in the evening as it does in the morning!
Update! I still use Beautycounter's eye pencil when I want a softer look, but I also love the Precision Liquid Eyeliner when I want a clear, crisp line and I have more time to apply it! Oh, my, it's fantastic and doesn't budge at all through the day!
In the original podcast I mentioned the "winner" for me was the Jane Iredale Basic Eye Pencil. I changed my mind — sorry! It worked well, but it breaks sooo easily and that's a waste of money. 🙁 I had to stop buying it because of that reason alone. I'm so happy to have discovered Beautycounter's eye pencil and Precision Liquid Eyeliner soon after! I foresee using these for the rest of my life. They are really fantastic and tick all my boxes.
Mascara — Although I used to use 100% Pure's Fruit Pigmented Ultra Lengthening Mascara in Black Tea I'm now switched over to Beautycounter's Volumizing Mascara. They are both great, but the Beautycounter edge (for me) is that it makes my lashes seem thicker a bit better AND it cleans off much more easily!
Tip: Warm up the mascara in a tub of hot water while you put on the rest of your makeup. Then it applies SO much better (warmer and juicier). It's worth the extra step!
Lipstick — The sheer lipsticks from Beautycounter are AMAZING! You get a hint of color while it still seems a bit sheer. That means it looks more natural rather than an excess of color. (They also have color intense lipsticks if that's your thing.) Beautycounter's lipsticks don't dry out my lips or make me feel icky like I have waxy stuff on my lips. So far, I have the colors Rose (medium pink) and Petal (light neutral pink). They remind me of the Clinique lipstick I used to use years and years ago but had to give up due to reactions to conventional makeup.
In the past, I have also enjoyed these lip crayons from 100% Percent Pure: Naked Berry and Naked Pink.
Natural And Non-Toxic Hair Care…
Please note: the videos above are out of date. I have found *the answers* to caring for my curly hair and I shared them here. I updated the text below so it would be accurate.
This video is current:
Although I'm about to share my favorite hair care products and methods, I know they won't work for everyone because we all have different hair.
Although, if you're a fellow curly, you'll want to check out this #AskWardee where I discuss more about my curly hair methods (and what literally saved my hair from otherwise being dry and frizzy!)
My particular issues are:
I not only use the shampoo, conditioner, and gel listed below but I also care for and cut my hair according to the "curly girl" method as I describe in this #AskWardee: The *Best* Way To Care For Curly Hair… Naturally!
Shampoo and Conditioner — I use Shea Moisture's Low Porosity Protein-Free Shampoo and Conditioner with Baobab and Tea Tree Oils, following the method I talked about here. Shea Moisture has LOTS of different products, including for high porosity and medium porosity. They're safe to use and inexpensive!
Styling Gel — I love, love, love Morrocco Method's Blood Of The Dragon Styling Gel! It's light, which is great because I don't like a gel that shows or makes hair stiff, and it keeps down the frizz. I use when my hair is wet, after washing/conditioning, and I even smooth it over dry, second-day hair to re-style and reduce frizz. This is the stuff that makes it possible for me not to have to wash every day without looking awful!
Hair Spray — Try this citrus hair spray from past contributor Tracey!
Color — Although I'm not 100% good at it, I have tried out Hairprint to "color" my grey. It is not really a dye, though, it works with your body to restore your hair to its natural color. Get 15% OFF at this link. Update: I have since decided to embrace my grey and go silver. (A great book about that is The Silver Hair Handbook right here.)
Other Natural Body Care Products…
Dry Brushing — I'm so in love with dry brushing (for face, too!). Dry brushing exfoliates, stimulates lymphatic flow, and helps clear the body's detox pathways. When I started dry brushing, my skin got softer overnight. I am also better supporting my hormones so probably my skin's improvement was not entirely due to dry brushing but still… I look forward to it every evening. It feels so good and the results are worth it. Members, we have videos about dry brushing in our Women's Health eCourse!
Lotion — Unless I've made my own, we use MadeOn's hard lotion bars for feet. These lotion bars are thicker than a lotion so they really stay on. I put it on nearly every night on my feet, elbows, and anywhere else I need moisturizing. I also use my homemade body butter or Countermatch Adaptive Body Lotion on the rest of my body.
Perfume — I use my essential oil perfume, of course!
Deodorant — I either purchase Earthley's deodorant or I use this homemade natural deodorant for years. They both really work for me without irritation!
Toothpaste — We use Jason Powersmile; it's fluoride-free and acts/taste just like regular toothpaste. Or you can make your own herbal tooth powder.
Tooth Whitening — Did you know you can brush periodically with activated charcoal and/or turmeric for natural teeth whitening? These really work, and even better is to rotate brushing with these two ingredients!
Body Soap — We use my homemade crockpot castile soap or Dr. Bronner's Peppermint Castile Bar Soap.
Hand Soap — I make this essential oil foaming hand soap and we have a pump at every sink in the house. The base soap in the recipe is Dr. Bronner's Liquid Castile Soap (unscented baby mild) and essential oils from either Rocky Mountain Oils or Aroma Foundry.
Hand Sanitizer — I make a homemade essential oil hand sanitizer (recipe given to members as a thank-you video a few months back) or we use this essential oil air freshener.
Sunscreen — Although I purposely aim to get some sun each day without wearing sunscreen (for the Vitamin D) or sunglasses (info here), with prolonged sun I now use Beautycounter Countersun Sunscreen. Also see: How & Why To Use Cod Liver Oil To Prevent Sunburn.
Don't Forget!
To support healthy skin, hair and overall health it's important to sleep/rest, eat nourishing foods, reduce stress, and balance hormones. With God's grace and good healthy habits, we can glow from both inside and out!
When you need a little bit more help than your DIY products can offer, please do consider Beautycounter, a company whose mission is to get safer products into the hands of everyone. They avoid the use of 1,500 harmful or questionable ingredients that are commonly used by other skin care companies, and the products really work to nourish and renew skin.
If you like the products and think you'll use them regularly, I highly recommend adding a Band of Beauty membership to your order. For just $29, you'll get a free gift (over over $5)), plus 15% product credit and free shipping on orders over $100 for an entire year. And… if your order subtotal is $200* or more, I'll throw in a free gift worth $39! When you checkout, be sure to select Wardee Harmon as your referral name, because I have special rewards for Band of Beauty members, too!
*Calculated before tax, shipping, Band of Beauty membership, or product credit. Your gift ships separately because it will come from me. 🙂
Lindsey's Top 3 Personal Care Products & Tips
Lindsey Dietz, TCS writer, just arrived for a visit when I recorded this episode (how fun!) She's joining me on the broadcast, Lord willing.
Here are Lindsey's top 3 products and tips for natural personal care…
All of Wardee's products are amazing. In fact, we have a few in common! 😉
I like to keep things simple and natural in my beauty routine, so here are my top 3 tips:
This is one DIY that's totally worth it! Like Wardee's eye shadow, I was using another company's (very expensive) face serum — and then ran out. I didn't want to spend $40 (yes, really) on another bottle, so I decided to recreate it. My version has fewer ingredients, but works just as well!
I love using this serum morning and night. It's light, doesn't clog pores, and is so anti-inflammatory — which I need because my skin has a tendency to be red a lot.
I feel like my face is brighter, fresher, and younger looking after using this serum for several months!
I know Wardee mentioned this too… yet, it truly is worth a second mention!
Hands down, this is my absolute favorite item in my minimalist makeup bag!
I rarely wear a full face of makeup, but I feel 100% more confident and beautiful when I go makeup-less except for this mascara. It goes on smoothly, stays put, and actually smells great!
#3 — Don't Wash Anything Too Often
This is my top tip. And don't be grossed out — I feel like I have pretty nice hair and skin! 😉
Whether it's my hair, my face, or my body, I don't wash daily. (Yes, really.) And I don't feel the need to either.
Washing our hair and skin too often can lead to dryness and imbalances since we wash away all of our natural oils. It requires more shampoo, conditioner, and soap to wash daily. And after washing, we have to reapply more lotion or body butter, hair products, perfume, etc.
If we give our scalp and skin a chance to be natural, I believe many problems can eventually resolve themselves.
For instance, I used to wash my hair daily or every two days. My scalp was always oily, so I thought I had to. By going longer and longer between washes, my scalp didn't have to keep producing oil to replenish what I was washing away. It balanced out, and now I can comfortably go four or five days between washes (and I wear my hair up during the fourth and fifth days!).
By not showering daily, my skin doesn't dry out, so I don't need lotion or body butter daily, even during the winter. My skin stays naturally hydrated and soft with its own oils, without being greasy!
(Bonus Tip #4 — Natural Deodorant! You can't go four or five days without showering and not have a good deodorant! 😉 Wardee's homemade version works so well. I used it for years. My only complaint was that it was difficult when traveling, so I now use Schmidt's Bergamot & Lime Stick Deodorant. It's a fantastic option for non-DIYers!)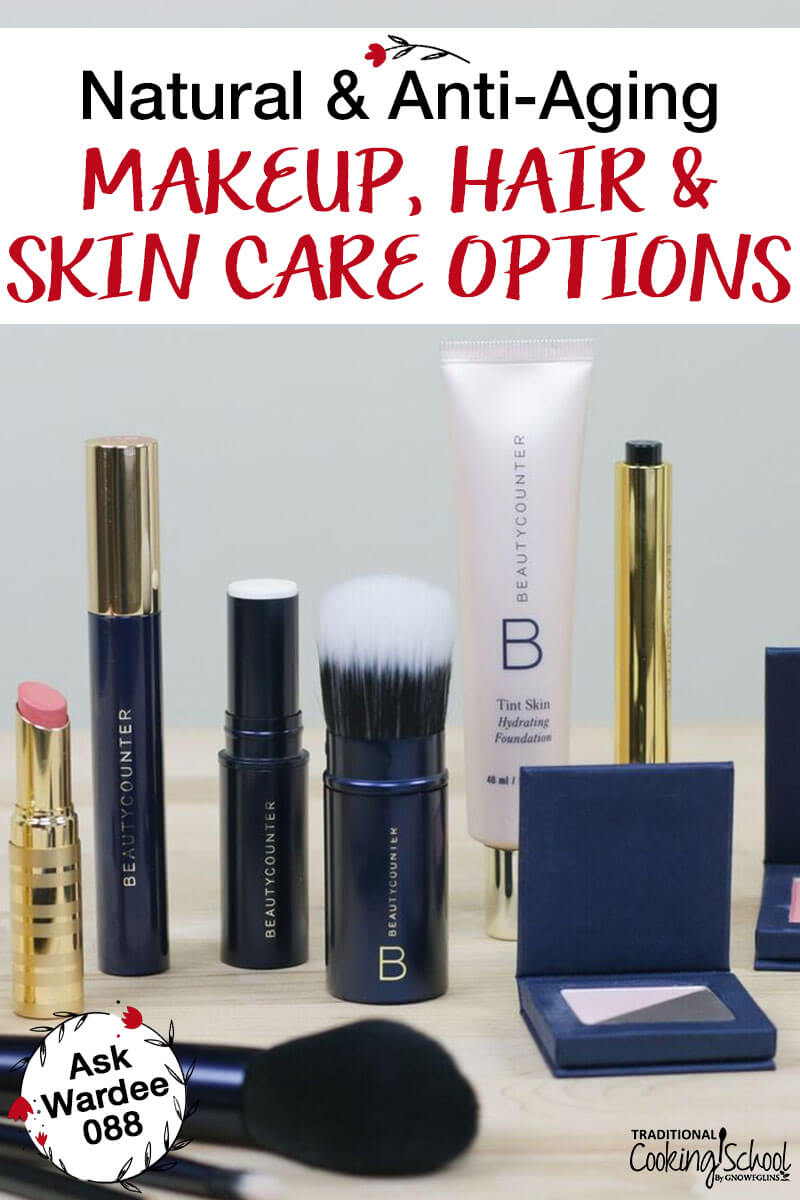 Helpful Links:
What Is The #AskWardee Show?
The #AskWardee Show is the live weekly show devoted to answering your niggling questions about Traditional Cooking: whether it's your sourdough starter, your sauerkraut, preserving foods, broth, superfoods or anything else to do with Traditional Cooking or your GNOWFGLINS lifestyle.
I share tips and resources, plus answer your questions about Traditional Cooking!
The Details
When: Wednesdays at 10am Pacific / 1pm Eastern
Where: Traditional Cooking School on Facebook Live
What If You Can't Make It?
Don't worry. You can catch the replays or listen to the podcast!
Want To Get YOUR Question Answered?
Here's how to submit your question. If we answer it on #AskWardee, you'll get a gift!
Or, you can…
Please do NOT add future questions for #AskWardee to the comments of this post because they might get missed!
What natural and non-toxic makeup, hair, and skin care products do you love? Share in the comments!
...without giving up the foods you love or spending all day in the kitchen!
Ditch the Standard American Diet, get healthier & happier, and save money on groceries...
We only recommend products and services we wholeheartedly endorse. This post may contain special links through which we earn a small commission if you make a purchase (though your price is the same).