This round-up of GAPS Diet baked goods and treats is unusual.
For instance, only a few of the recipes contain almond flour. Some include baking soda. Yet all are nutrient-dense, gentle, healing, indulgent recipes!
Years of experience with the GAPS Diet has informed each of the recipe choices. Let's discuss how I chose each one, below…
Baking Soda: Not Your Typical GAPS Fare
Many recipes below call for baking soda. This ingredient is not typically GAPS-friendly since it creates a less acidic pH in the stomach, thus compromising digestion.
To consume baking soda while on the GAPS Diet without thwarting digestion, use any of these supplements:
Minimal Almond Flour & Almond Butter
Many GAPS-legal recipes call for commercially-made nut butters and nut flours. Sadly, these aren't easy to digest because they're made from dormant seeds. Neither raw nuts nor roasted nuts have been "awakened" from their dormant state. Their nutrition cannot be assimilated, and they, therefore, wreak havoc on the digestive mechanism.
Raw and roasted nuts are also high in phytic acid, which binds to minerals and prevents the body from absorbing them, thus further robbing the body of needed nutrition. Almonds, specifically, are very high in omega-6 fats, while most of us need more omega-3s. (Read more on almonds here.)
Be sure that when you use any nut or seed flour (or butter) the nuts have first been soaked and dehydrated. Nuts and seeds are then referred to as "awakened" or "crispy." (Learn to make your own crispy nuts here.)
Most of the following recipes do not contain nut flours unless they have been pre-digested in one of these ways; or the recipe will be followed by a reminder note from me about doing so. 🙂 (Note: Nuts and seeds may also be pre-digested through fermentation, as you'll see in the fermented, dairy-free cheesecake below.)
Below you'll find several categories of GAPS Diet baked goods: Muffins and Quick Breads, Pancakes, Cookies, Scones and Biscuits, Pies, Tarts and Bars, Cake-y Things, Pizzas and Sandwich Breads.
I hope this collection gives you a lot more variety and fun with recipes, so you have greater contentment and success on the GAPS Diet! (If you're struggling on the diet, I recommend these articles: How To Thrive On The GAPS Introduction Diet and Let's Demystify The GAPS Diet.)
Do You Tolerate Coconut?
A lot of the recipes below use coconut, coconut flour, or coconut butter. But not all of them!
Some use sprouted nuts or seeds, as discussed above; and some have other creative ingredients.
If you can't have coconut, and you find a need for more recipes, I recommend my cookbook Eat Beautiful, which uses soaked nuts and seeds primarily. The cookbook teaches a unique blender method, that makes the recipes fast and with a more similar texture to baked goods most of us used to eat while on a standard American diet. (Find the eCookbook here or the softcover here.)
A Few Other Considerations
While some recipes below call for cocoa powder, this should be a rare ingredient for special occasions. GAPS patients may get carried away with chocolate treats, so do not let the few recipes containing cocoa become everyday staples.
A couple of the recipes have a GAPS Diet variation, which aligns the recipe with the diet. These great recipes have been included because you'll love them. Just make sure to follow the variation, instead of the main/original recipe.
And now — 41 healing and indulgent GAPS Diet baked goods you'll love!
Quick Bread Loaves
Muffins
Pancakes
Cookies
Scones & Biscuits
Cheesecakes, Pies, Tarts & Bars
Cake-y Things
Pizza & Sandwich Breads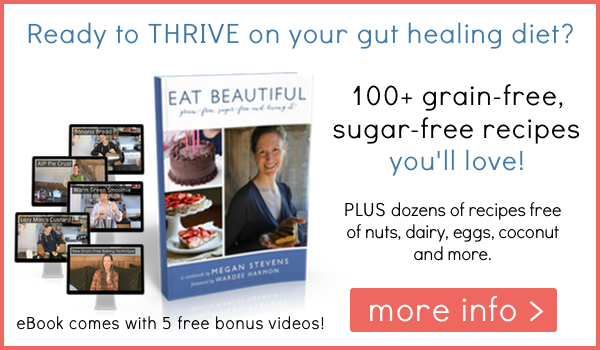 Looking for more nourishing, gut-healing foods that your family will love to eat?
Be sure to check my cookbook: Eat Beautiful: Grain-Free, Sugar-Free and Loving It (softcover version as well).
It contains all the recipes I've perfected through my family's years on a gut-healing diet.
My eBook and video package is currently 50% off. One of the bonus videos you'll get explains the grain-free baking technique I use to make amazing panini sandwiches for our gut-healing cafe in Eugene, Oregon!
Click here for more info or to buy my book, Eat Beautiful: Grain-Free, Sugar-Free and Loving It for 50% off (plus get 5 bonus videos).
And If You're Overwhelmed By GAPS…
If you're feeling intimidated or overwhelmed about implementing the GAPS diet and want some hands-on help, check out the GAPS Class taught by Traditional Cooking School's friend and GAPS practitioner Melanie Christner. Click here for more info. (Limited spaces.)
Thinking Of Doing GAPS?
How long have you been on the GAPS Diet? What's your greatest struggle? What's your greatest success?
...without giving up the foods you love or spending all day in the kitchen!
Ditch the Standard American Diet, get healthier & happier, and save money on groceries...
We only recommend products and services we wholeheartedly endorse. This post may contain special links through which we earn a small commission if you make a purchase (though your price is the same).