How do you make grain-free baked goods?
I use soaked nuts.
There are actually 3 ways to predigest nuts and seeds: soaking, sprouting, and sourdough.
When it comes to neutralizing enzyme inhibitors, soaking is the least effective, sprouting falls in the middle, and sourdough is the most effective.
Grain-free sourdough bread recipes may be hard to find, but this one is a versatile gem that can be made into loaves or rolls and eaten as sandwiches or toast!
It tastes just like tender, soft, fresh, whole wheat bread!
When cooled, this bread contains resistant starch — a wonderful prebiotic that comes from cassava flour and contributes to a healthy gut flora population in the colon. See if you notice a difference!
Nuts and Seeds: The Options
What are the best nuts and seeds to use in this bread?
All have different flavors and textures (and costs!) that will affect the bread's outcome, and ultimately, its unique personality. Here are my favorites.
Sunflower seeds are the least expensive option. They have a lovely earthy flavor, but do contain chlorogenic acid, which turns green when it reacts with the baking soda. Hence, green bread! We work around this oddity by adding a bit of minced kale to our sunflower-based breads. Kale is easier to explain to gawking onlookers than chlorogenic acid. 😉
Cashews blend up creamily to give the texture and color of white bread. They are actually a fruit instead of a nut or seed, and are always pasteurized even when labeled raw. The sourdough process still functions to reduce anti-nutrients, however. Unfortunately, cashew allergies are pretty common, so be careful. To get the best price, buy cashew pieces instead of whole cashews.
Pine nuts are actually a seed and thus great for those with nut allergies! They have an incredible mild, pine flavor and blend up creamily and pale to give a very nice white sourdough appearance to the bread. The only drawback is that pine nuts are costly.
Brazil nuts yield a nubbier texture to baked goods. This is an excellent choice for anyone who loves seedy or chewy breads. Brazil nuts are one of the only foods high in selenium. I personally love making sourdough baguettes with these nuts!
Macadamia nuts make an excellent sourdough in every way — texture, color, and flavor. Again, the only drawback is their costliness.
There are many other nuts and seeds that are fun to work with and will yield various textures, colors, and flavors. Have fun experimenting with your own favorites!
Combinations work well too. For example, pumpkin seeds (pepitas) are very high in protein and economical to purchase. Try pairing them with another favorite nut or seed.
Grain-Free, Paleo Sourdough Bread
Grain-free sourdough bread recipes may be hard to find, but this one is a versatile gem that can be made into loaves or rolls and eaten as sandwiches or toast!
It tastes just like tender, soft, fresh, whole wheat bread!
Makes 1 loaf, or 8 to 10 rolls.
Total Time
3
hours
5
minutes
Instructions
Purée wet nuts or seeds in a high-powered blender with filtered water until smooth (about 50 seconds). 

Purée again until just combined (about 10 seconds). 

Transfer to a ceramic bowl and cover loosely with a towel or plate.

Place in a very warm location (ideally 95 to 105 degrees Fahrenheit) for 12 hours or overnight. 

A dehydrator or oven with the light on works best, but the countertop works too, if your home temperature is 70 degrees Fahrenheit or higher. Fermentation will still occur but it will take about 24 hours.

Once nuts and seeds are fermented, preheat the oven to 325 degrees Fahrenheit. 

Sift together cassava flour, chia seed meal, baking soda, and sea salt. 

Place eggs, fat of choice, and honey into a stand mixer or food processor and mix on medium speed until completely blended (about 30 seconds). 

Add nuts or seeds and flour mixture. 

Mix with the paddle attachment until thoroughly combined, but not over-mixed.

Pour into your greased loaf pan. 

Bake until a sharp knife inserted into the center comes out clean (about 50 to 55 minutes). 

Cool completely before removing from the pan and slicing.
Recipe Notes
*You can soak all of your nuts and/or seeds together. The wet nuts and seeds are what make this bread so irresistible. 
**To make chia seed meal, blend 2 cups of chia seeds in a dry, high-powered blender on medium speed for 10 seconds. Measure after blending.
***We love this avocado oil!
Nutrition Facts
Grain-Free, Paleo Sourdough Bread
Amount Per Serving
Calories 396
Calories from Fat 279
% Daily Value*
Fat 31g48%
Cholesterol 41mg14%
Sodium 233mg10%
Potassium 284mg8%
Carbohydrates 25g8%
Protein 9g18%
Vitamin A 68IU1%
Vitamin C 3mg4%
Calcium 158mg16%
Iron 3mg17%
* Percent Daily Values are based on a 2000 calorie diet.
Do you enjoy making grain-free baked goods? How do you predigest your nuts and seeds? Have you worked with sourdough?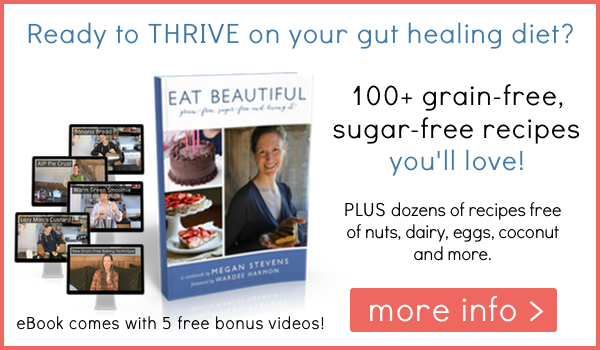 Looking for more nourishing, gut-healing foods that your family will love to eat?
Be sure to check my cookbook: Eat Beautiful: Grain-Free, Sugar-Free and Loving It (softcover version as well).
It contains all the recipes I've perfected through my family's years on a gut-healing diet.
My eBook and video package is currently 50% off. One of the bonus videos you'll get explains the grain-free baking technique I use to make amazing panini sandwiches for our gut-healing cafe in Eugene, Oregon!
Click here for more info or to buy my book, Eat Beautiful: Grain-Free, Sugar-Free and Loving It for 50% off (plus get 5 bonus videos).
This post was featured in 60 Easy & Nourishing Picnic Recipes.
...without giving up the foods you love or spending all day in the kitchen!
Ditch the Standard American Diet, get healthier & happier, and save money on groceries...
We only recommend products and services we wholeheartedly endorse. This post may contain special links through which we earn a small commission if you make a purchase (though your price is the same).