Between busy weeknights and hungry kiddos, dinner needs to be EASY! 30 Minute Meals for Special Diets came to the rescue offering a variety of real food recipes. However, if ground beef is all you have on hand, these 25+ healthy meals with ground beef has got you covered! These ground beef recipes range from burrito bowls and casseroles to burgers and Instant Pot soups… and are all made from 100% real food!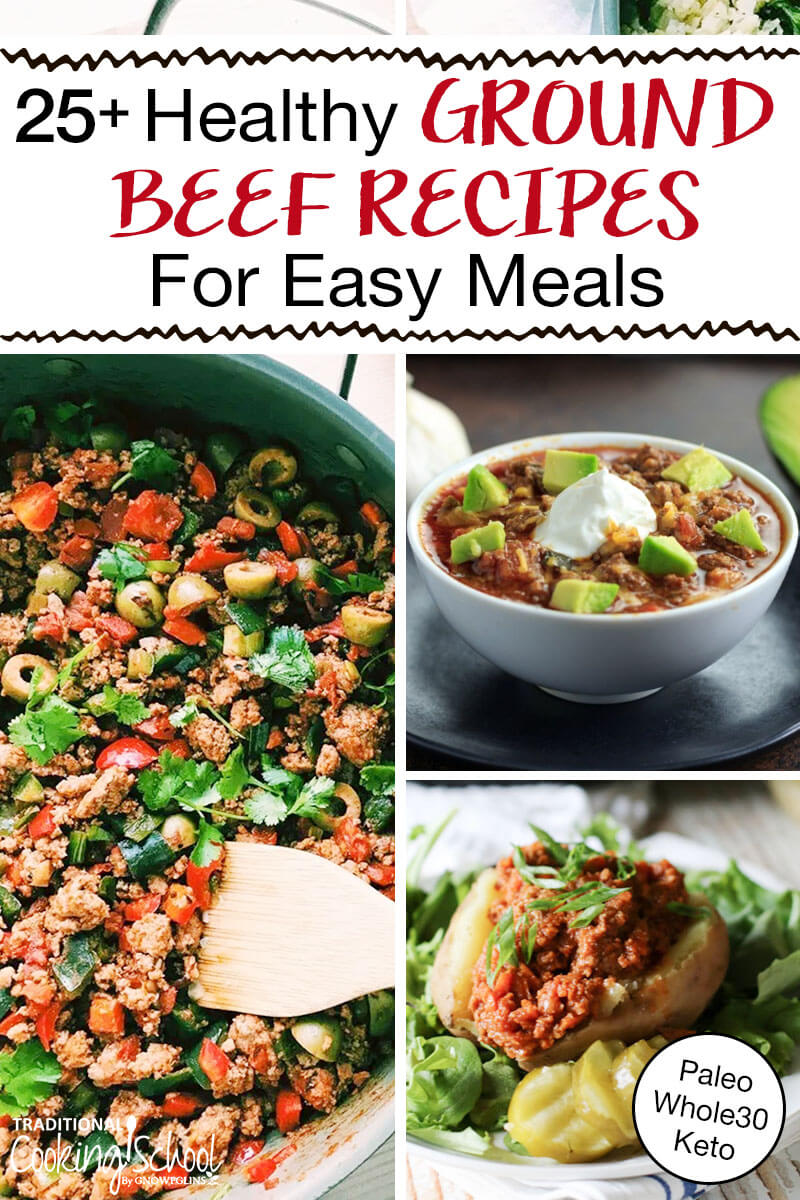 If you find yourself stressed over dinner yet again, this collection is for you!
In all of cooking's history, ground beef can easily be hailed as a hero when hectic nights and hunger collide.
It's so versatile and generally speaking, recipes with ground beef can be made to suit the tastes preferences and dietary needs of most people. That's why ground beef is such a classic choice for home cooks everywhere.
We always have ground beef in the freezer. It's a great piece of meat for easy and healthy recipes from beef tacos and burgers to soups and salads.
Additionally, ground meat typically costs less than other cuts of meat, even of the pastured and organic variety. It's a great way to eat healthy on a budget.
Easy ground beef recipes have been my default when I don't have a proper meal plan in place. That's because, in less than an hour, you can effectively thaw frozen ground beef.
Check out our tips on how to do that safely below!
Healthy Ground Beef Recipes
We collected a few of our favorite ground beef recipes that meet the following requirements:
They must be easy and quick to whip up! The entire purpose of this roundup is to make it easier for you to prepare wholesome meals for yourself and your families.
These recipes have to be healthy! Whether you're just getting your feet wet in Whole30 or a total veteran, or a Paleo-for-life eater, or take more of a traditional WAPF approach… these recipes fit the bill. They can easily be customized to fit your lifestyle.
They must be kid-friendly, mom-approved, family-loved! There is something here for everyone.
These healthy ground beef recipes stand the test of 5 o'clock dinner dilemmas, busy weeknights, and hungry kiddos. We promise they won't fail you!
And, of course, in a pinch you can usually replace ground beef in a recipe with ground pork, ground turkey, etc. 🙂
How To Safely Thaw Frozen Ground Beef Quickly
According to USDA, the best way to thaw any meat is in the refrigerator overnight.
Yet… I've found myself close to dinnertime with a solid brick of ground beef. Still frozen.
Thankfully, there are simple ways to safely and effectively thaw frozen ground meat.
#1 — To Use Raw Meat In A Recipe:
If you need to use raw ground beef in a recipe but you forgot to thaw the meat in the refrigerator, there's a very simple method of water submersion that will quickly and safely defrost the meat.
Seal your packaged meat in a Ziplock bag and place it in a large bowl.
Cover completely with cold water.
If necessary, weigh the meat down with something heavy like a canned item to keep it fully submerged. It should thaw in 20 to 30 minutes!
Check on the temperature of the water frequently so it doesn't get too cold and replace with fresh water. This ensures that the bowl of water is not icy cold.
#2 — To Use Cooked Meat In A Recipe:
If you need cooked ground beef in a recipe such as soup, all you really need is additional cooking time. Follow these simple steps to cook frozen ground beef:
Add 2 to 3 tablespoons of water in a skillet or pot.
Remove ground beef from package and transfer to skillet or pot.
Cover pot.
Bring the water to a simmer on medium-high heat. The water prevents the meat from burning while the steam thaws the meat from inside out.
Scrape off the cooked ground meat on the exterior with a spatula to reveal uncooked ground beef.
Continue this process, keeping the scraped cooked ground beef in the pan. Be sure you have a little bit of water in the pan at all times to avoid burning the meat.
Check the meat and scrape about every 4 minutes.
The gentle steaming process will thoroughly and safely cook the frozen ground beef. Add vegetables and seasonings per recipe.
If you find the pan has too much water, just keep the skillet or pot uncovered so it evaporates.
Now that you have your meat ready to go, let's check out these healthy meals with ground beef.
Bowls With Ground Beef
Image courtesy of Whole New Mom. 
These recipes are super convenient because bowls are typically a well rounded meal. They are already chock full of veggies and thus no salad is needed.
Check out the variety of these bowls with ground beef!
Whole30 Korean Beef Bowl — Easy Paleo Korean Beef Bowl with savory and sweet Korean bulgogi sauce. This Whole30 ground beef recipe is easy to make and great for meal prep!
15-Minute Keto Greek Bowl — These Paleo and GAPS-compliant bowls make amazing and delicious 15-minute meals.
15-Minute Keto Asian Beef Bowl — This Keto, Whole30, Paleo & GAPS Asian Beef Bowl will be met with enthusiasm by your family. But best of all: 15 minutes!
Mexican Crispy Potato Bowls — This Mexican Crispy Potato Bowls recipe shows you how to make crispy potatoes! The potatoes are scented with cumin and oregano, served with broccoli and ground beef, topped with an egg, and served with a dairy-free cilantro-avocado cream sauce.
Egg Roll in a Bowl — This Healthy Egg Roll in a Bowl (aka Crack Slaw) has all of the great flavor of egg rolls, but it's a sure-to-please Easy One Pan Meal with all the taste, but none of the carbs!
Healthy Burrito Bowl — This deconstructed naked burrito bowl is a healthier alternative to a tortilla, rice, and bean-filled classics. Flavorful ground beef chili is served alongside roasted sweet potato, tomato and pepper salsa salad, and avocado for a delicious healthy dinner meal that is gluten-free and Whole30 friendly.
Healthy Skillet Meals With Ground Beef
Image courtesy of Eat Beautiful. 
Skillet meals are a favorite of many because they are generally a one-pot deal. That means less dishes to wash and less hassle.
Check out these hearty and delicious skillet meals.
Cabbage Noodles with Ground Beef (and Hidden Liver!) — Enjoy this Asian-inspired skillet meal with pan-fried cabbage noodles and ground beef. Add "hidden liver" for extra nutrient density and no one will know it's there!
Cottage Pie with Horseradish Cauliflower Mash — This Cottage Pie with Horseradish Cauliflower Mash bridges the gap between comfort food and food you can feel good about later. It's Paleo and Whole30!
Paleo Veggie-Packed Sloppy Joes — These Whole30 sloppy joes are packed with hearty vegetables like onions, bell peppers, and celery. They are loaded with flavor and best of all take only 30 minutes to complete a meal!
Cuban Picadillo — Cuban Picadillo takes roots in Latin American cuisine and comes together with a savory blend of ground meat, tomatoes, olives, green onions, spices, and plenty of chili peppers in 30 minutes or less.
Best Paleo Shakshuka — Shakshuka is a great family meal that pairs abundant tomatoes and peppers with humble but delicious eggs and herbs. Use the ground beef option in the recipe for an extra hearty and protein-rich dinner.
Easy Cheeseburger Pie — This easy cheeseburger pie is perfect for a low-stress dinner any day of the week! Flavored with simple everyday ingredients, your family will love it.
30-Minute Sausage & Sweet Potato Breakfast Hash — Use whatever ground meat you have on hand, whether it's beef, pork, or sausage in this delicious, veggie-packed breakfast (or anytime!) hash! Plus, it's Whole30 and Paleo approved.
Soups & Stews With Ground Beef
Image courtesy of Prepare & Nourish. 
Soups are such a comfort food and are great to make in advance. Be sure to read up above on ways to use frozen beef if you forgot to thaw it overnight.
30-Minute Instant Pot Green Lentil Chili — Break out your pressure cooker to make this delicious GAPS-friendly green lentil chili! Hearty soup + nutrient-dense beef broth + only 30 minutes = super easy dinner!
Keto Instant Pot Cabbage Beef Stew — This stew is an easy to make, healthy, savory, budget-friendly, low carb, gluten-free, Paleo, and Whole30 recipe.
Butternut Squash Chili — Perfect bean-less chili… hearty and delicious! This easy weeknight chili recipe is full of flavor and Whole30 and Paleo compliant.
Instant Pot Ground Beef and Kale Soup — This soup is hearty and loaded with comforting potatoes and nutritious kale. Best of all, it has a cooking time of 4 minutes!
Paleo Hamburger Soup — Seasonal veggies, lots of protein, and a 20-minute cooking time make this nutritious soup an easy, cozy dinner!
Keto Instant Pot Chunky Chili — This hearty chili can be made in the Instant Pot or slow cooker and is loaded with ground beef, spices, and vegetables. This chili is bean-free, gluten-free, Paleo and Whole30.
More Healthy Ground Beef Recipes
Image courtesy of I Heart Umami. 
Don't care for bowls, skillet meals, or soups? Check out this section of all the other healthy ground beef recipes — meatballs, burgers, nachos, and more!
Easy Meaty Lasagna – Classic, super easy, MEATY lasagna. The best high-protein comfort food!
Keto Bulgogi Beef Sushi Rolls — These low carb and Whole30 sushi rolls are filled with cooked ground beef and crunchy vegetables in a sweet and savory sauce. Perfect for portable healthy lunch boxes!
Allergen-Friendly Paleo Meatballs — Do you love meatballs but you're on a special diet? These Grain-Free Paleo Meatballs hold together well, even without bread or eggs, and are paired with a delicious dairy-free mushroom sauce.
Perfect Everytime Classic Burger — Juicy & flavorful, this classic burger recipe includes garlic and a few other special ingredients to make a mouthwatering hamburger.
Sheet Pan Nachos — Easy and convenient 30-minute meal is a total crowd-pleaser. Customize the toppings to fit your needs and satisfy the nacho craving of everyone.
Italian Meatballs with Pesto Zucchini Noodles — A simple but flavorful Whole30 meal made in about 30 minutes.
Rosemary Beetroot Burgers — Whether grilled or pan-fried, these gorgeous beetroot, rosemary, and beef burgers offer up a lot of flavor on a budget.
Healthy Classic Stuffed Cabbage Leaves — The ultimate comfort food! Simple beef and rice (or cauliflower rice) filling wrapped in cabbage leaves and baked to perfection. Top with a dollop of sour cream or skip to keep it dairy-free.
Tarragon-Dijon Meatballs & Garlic-Tarragon Gravy — Inspired by Southern cuisine, with a fun surprise ingredient, this is an easy way to dress up your meatballs!
Meatloaf Sliders — Juicy, delicious, and surprisingly easy, these Paleo Meatloaf Sliders are a fun way to switch up a classic meal.
Paleo Chili Stuffed Sweet Potatoes — Enjoy the classic flavor of chili atop of perfectly cooked sweet potato.
Looking for More Budget-Friendly Cooking Tips? Try 35 Best Real Food Dinners On A Budget (+3 Tips For Frugal Meals!), 14 Ways To Nourish A Large Family On A Small Budget, and 10 Traditional Cooking Tips For The New Wife On A Budget.
Have you been inspired to try more ground beef recipes? Which of these healthy meals with ground beef will you make first?
Main images courtesy of Whip & Wander, Beauty and the Foodie, and Prepare & Nourish. 
...without giving up the foods you love or spending all day in the kitchen!
Ditch the Standard American Diet, get healthier & happier, and save money on groceries...
We only recommend products and services we wholeheartedly endorse. This post may contain special links through which we earn a small commission if you make a purchase (though your price is the same).