This holiday season, consider giving the gift of homemade food! Food gifts are delicious, most importantly, yet also a frugal way to show your family and friends how much you love them!
Food gifts are like getting a care package under the Christmas tree… or in birthday wrapping… or whatever the occasion may be.
That's not the only reason food gifts are so special. They're consumable and don't contribute to clutter or waste. They are economical and thrifty, especially for those of us with tight budgets amidst soaring inflation. You can also make a big batch at a time, gifting goodies to many loved ones all for the price of ingredients and one afternoon (or less!) in the kitchen!
Finally, food gifts are easily suited to dietary restrictions, as you will notice in the recipes below.
I don't know about you, but it feels like a luxury surpassing all luxuries to enjoy homemade, delicious food without making it myself. 😉
How to Package Your Food Gifts
The thrift store is your friend!
Pretty much everything looks lovely in a jar! Save your mayo and jam jars year-round, and you'll have plenty for holiday gifting.
In a plastic baggie (not the zip-top kind), tied with a ribbon or twine.
Save brown paper bags throughout the year to repurpose as gift bags. Attach a sprig of greenery, cinnamon sticks, a beautiful Christmas-themed photo, or a dried orange to the front or one of the handles.
Load up secondhand baskets from the thrift store with goodies. The recipient will enjoy their treats, and a basket! You can do themed baskets, too, like a movie night basket with popcorn seasoning and movie tickets!
Thrifted mugs and vases can also make good gifting containers, depending on the size and shape.
Check your local thrift store for festive tins and fill them with cookies!
Here are other sweet packaging ideas.
Food Gifts
I've labeled each recipe according to its special diet so you can easily choose the right recipe(s) for your loved ones.
Meals (Breakfast or Dinner)
Sweet Treats
After perusing the selection of goodies below, you might take a look at these 60+ homemade candy recipes or these 25+ homemade marshmallow recipes!
Candies, Fudge, Truffles, Etc.
Cookies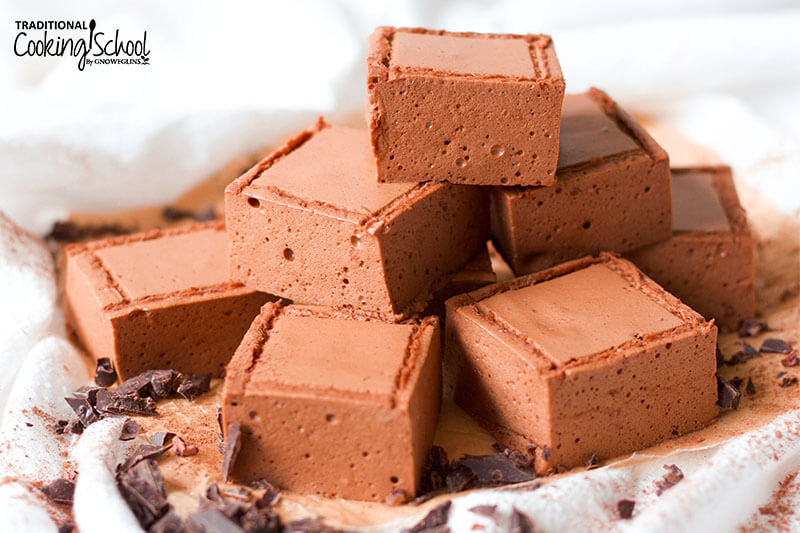 Marshmallows

Savory Snacks
Seasonings & Flavorings
A perfect gift for those cooks who love to add a little pizzazz to their dishes.
Condiments

Drinks
What are your favorite foods to give as gifts? Or the most memorable food gifts you have received? Please share in the comments below!
...without giving up the foods you love or spending all day in the kitchen!
Ditch the Standard American Diet, get healthier & happier, and save money on groceries...
We only recommend products and services we wholeheartedly endorse. This post may contain special links through which we earn a small commission if you make a purchase (though your price is the same).