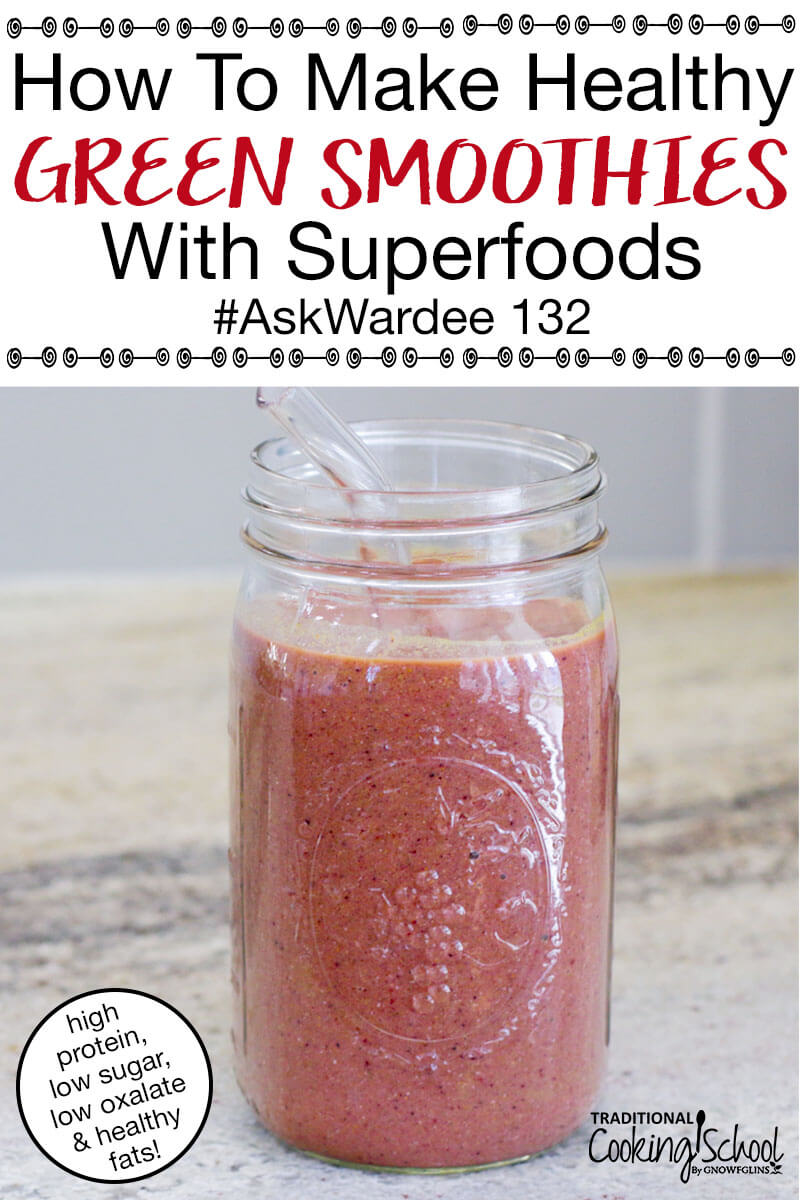 Michelle D. wants to know what superfoods I put in my green smoothies… so I'm showing you today on #AskWardee!
Not only that, but my green smoothies solve the BIG problems with the "usual" green smoothies. Namely, they are usually high oxalate, high sugar, no fat, and no protein.
On the other hand, my green smoothies are low oxalate (I'll tell you why this is important below), low sugar, as well as including healthy fat AND protein for a complete meal.
The formula is flexible, too, using all real foods. Keep reading or watching below to learn how!
Subscribe to #AskWardee on iTunes, Stitcher, YouTube, or the Podcasts app.
The Question: How To Make A Green Smoothie With Superfoods?
I sent out an email a few weeks back, referencing my green smoothies with superfoods (some of them from Perfect Supplements) and Michelle D. asked:
Can you please provide a recipe for your current green smoothies with these specific Perfect Supplements?
Michelle, thank you for your question!
Because we're featuring your question today's #AskWardee, you're getting a gift — a FREE Mini eCourse! Our team will be in contact with you so you can choose which one you'd like!
What's Wrong With The Green Smoothies Everyone Else Makes…
There are BIG problems with the green smoothies you see everyone else making, and here they are:
They're high in oxalates. Dark leafy greens such as kale, collards, spinach, chard, and beet greens have high oxalic acid, which binds with minerals and prevents you getting the mineral content of what you're eating. For example, spinach. It's high in iron, yet the oxalates in spinch prevent you from getting the benefit.
They're high in sugar. A lot of green smoothies are 40% to 60% fruit. That's TONS of sugar! With obesity, diabetes, pre-diabetes, and other blood sugar issues on the rise, this certainly doesn't help!
They don't contain complete protein or much protein at all. We need complete protein for our muscles, among other things. Protein is made of amino acids. Complete protein contains ALL the essential amino acids, while incomplete proteins contain only a few. The fruits and veggies in the usual green smoothies contain incomplete protein, and not even enough of those to meet our nutrition needs.
They don't contain fat. Again, they're made of just veggies and fruit… no fat. We need healthy fats for our brain, mental focus, healthy digestion, to control blood sugar, to increase absorption of fat-soluble vitamins and other nutrients, and to feel satiated and full.
…And Here's How My Green Smoothies Are Better
My green smoothies are different! The problems above are solved:
In addition, I add lots of superfoods to make the smoothies even healthier! You can read more about those below.
For more information on some of these improvements, read:
The Superfoods…
You can add so many different superfoods to your smoothies! Pick and choose, depending on what you have or any health concerns you want to work on.
Here are our favorites:
Healthy Green Smoothie Recipe/Formula
It's important to use a heavy-duty blender like the Vitamix. We've had ours going on 15 years now and it is hands-down my favorite appliance! I wouldn't be happy without it!
Use whatever ingredients you have, yet the liquid amounts should stay the same for easy blending. We prefer raw and organic wherever possible.
If you find yourself using the same dry superfoods over and over, why not try making this Superfood Smoothie Mix to save you time from getting into multiple containers every time!
How To Make Healthy Green Smoothies With Superfoods
Want all the green smoothie benefits... without the high oxalates, high sugar, low fat, and low protein? Watch, listen, or read to learn how I make my healthy green smoothies with protein, nourishing fats, and superfoods like collagen, maca, and (most importantly) vegetables. Completely customizable yet simple and delicious, this low carb easy smoothie recipe is perfect for breakfast, for kids, for weight loss... you name it!
Instructions
Load up the Vitamix with ingredients in the order listed, except for the yogurt. It's important to have the soft fruits/veggies at the bottom along with liquids for easy blending. The order of the rest of the ingredients doesn't matter.

Blend, starting on low and increasing variable speed until the Vitamix is circulating the foods well.

Then flip to high and let fully blend.

Now add the yogurt and instead of blending on high, just churn on variable speed 4 to 5 until mixed in. (This prevents your smoothie from getting frothy.)

It's best to consume within 20 minutes of making this, so the veggies are at their most potent nutrition.
How (& Why) To Eat More Vegetables!
We learned recently from Dr. Thomas Cowan, of Dr. Cowan's Garden, that it's so important to get a wide variety of plants in your diet. He recommends we consume 100 different plants through the course of a year (not every day!). In fact, the variety is more important than the volume.
And by the way, fruits, veggies, herbs, spices… they all count toward your 100. 🙂
In his book, How (& Why) To Eat More Vegetables, Dr. Cowan points out:
…we can see that the plant world is a rich and abundant supply of the many nutrients and chemicals humans needs to survive and thrive. These various nutrients are best consumed on a regular basis and are derived from variety — in color, plant part and growth habit of the plant. By emphasizing variety, we give ourselves and our families the best possible chance to live a disease-free and vital life.
You can get more info on this short and sweet book right here.
And by the way, we're loving the different powders that Dr. Cowan's Garden offers. They give us a bit more variety than we would otherwise get.
If you do order any powders, be sure to use code DRCOWANSGARDEN at checkout to save 15% on your order! Click here to shop.
Any Questions Or Comments?
If you have other questions or comments about your own experience with green smoothies, be sure to leave them in the comments!

More Traditional Cooking Info…
If you haven't already, be sure to sign up for the FREE Traditional Cooking Cupboard… you'll get 14+ FREE eBooks featuring recipes, info, and articles on Traditional Cooking School, and a free Traditional Cooking video series!
Click here to grab your 14+ free eBooks and free video series today!
Helpful Links
What Is The #AskWardee Show?
The #AskWardee Show is the weekly show devoted to answering your niggling questions about Traditional Cooking: whether it's your sourdough starter, your sauerkraut, preserving foods, broth, superfoods or anything else to do with Traditional Cooking or your GNOWFGLINS lifestyle.
I share tips and resources, plus answer your questions about Traditional Cooking!
The Details
When: Wednesdays at 10am Pacific / 1pm Eastern
Where: Right here at AskWardee.TV or on social media: Traditional Cooking School on Facebook, Traditional Cooking School on YouTube, or @TradCookSchool on IGTV.
Subscribe: Find #AskWardee podcast on iTunes, Stitcher, YouTube, or the Podcasts app. While you're there, be sure to leave a rating and review!
Want To Get YOUR Question Answered?
Here's how to submit your question. If we answer it on #AskWardee, you'll get a gift!
Please do NOT add future questions for #AskWardee to the comments of this post because they might get missed!
Do you drink green smoothies? What ingredients and/or superfoods do you include? Please share your thoughts in the comments!
...without giving up the foods you love or spending all day in the kitchen!
Ditch the Standard American Diet, get healthier & happier, and save money on groceries...
We only recommend products and services we wholeheartedly endorse. This post may contain special links through which we earn a small commission if you make a purchase (though your price is the same).