Got a large family and a small food budget? Here are 14 ways to nourish your large family on a small budget! (These tips apply to smaller families, too!)
Cooking traditional foods for one or two has its own challenges, but nourishing a large family on a small food budget? This provides new challenges of its own!
Due to your high standards for nutrition, do you shudder at the thought of filling hungry tummies with cheap, non-nutritious filler foods?
You're not alone! And there's hope.
I actually get this question often — "How can I feel my large family nourishing foods on a small budget?"
In the past, I shared 8 general tips to rein in your real food budget. Those do apply to large families, too, but they're more general. Yet I felt it was high time I shared more ways that larger families can nourish their families with a small food budget.
So, here are the 14 ways to nourish your large family on a small budget… (These tips apply to smaller families, too, as you will see!)
Be sure to share your tips or reactions in the comments!
Like these tips? Share the infographic image at right on Facebook, Pinterest, or Twitter, or by email! Hover over the image and easy share buttons will appear!
1. Stick to a menu plan!
Plan out EVERYTHING: meals, sides, snacks, desserts, school lunches, meals for potlucks during the week, and snacks for kids' activities. Then make a detailed shopping list and stick to it.
Need some inspiration? 35 Best Real Food Dinners On A Budget and 25+ Healthy Ground Beef Recipes For Easy Meals can help get you started.
This will be work up front, yet then you'll have a written plan for your family's entire week, and you won't be scratching your head wondering what you're going to make for dinner on Wednesday afternoon at 4:30 pm.
Because you have a plan, you'll avoid last-minute runs to the store (which cost time and money) and caving in to eating out (which also costs time and money)!
Having a meal plan and sticking to it is essential for any family — and especially one on a budget!
Check out my podcast — 4 Steps to Easy Meal Planning — for more. (Notes are included if you don't have time to listen.)
2. Buy in bulk.
If you're a large family, it makes so much sense (and cents!) to buy items in bulk. With food buying clubs like Azure Standard and UNFI, membership stores like Sam's and Costco, and online vendors like Radiant Life and Wilderness Family Naturals, bulk-buying has never been easier or more convenient.
Consider grass-fed beef. Depending on your location, you might pay anywhere from $6 to $10 per pound (or maybe more!). You'll get a much lower price per pound — $4 to $7 per pound, most likely — plus varying cuts of meat if you do a bulk purchase of a quarter or half cow from a local rancher.
Membership stores like Costco (and even Sam's) are carrying more and more natural and organic items, including produce, healthy fats like coconut and avocado oils, and nuts. Check out my friend Katie's post, What Does a Real Foodie Buy at Costco?, to learn what Real Food items you can find for your family's budget.
If food co-ops or bulk-buying clubs don't exist in your area, you can start your own co-op or learn how to find one near you.
3. Invest in proper kitchen tools.
I know you're on a budget, so telling you to invest money in something might seem a bit non-sensical…
But trust me on this, having the proper kitchen equipment to store, prepare, and cook your family's meals will save you money and sanity!
You can't make large batches of anything without the right size stock pots and baking pans.
Consider how much easier your life might be if you had more than 1 slow cooker. One for perpetual stock and one for the roast you're serving for dinner. Or better yet, get an Instant Pot because it will do slow-cooking, pressure cooking, and more. I can help you choose which Instant Pot is right for your family in this article.
And if you're going to be purchasing perishable items in bulk, a second fridge and/or freezer is essential.
Please don't rush out to the nearest department store and buy these items brand-new! Check thrift stores, garage sales, and Craigslist to find like-new items at significantly reduced prices.
10 Traditional Cooking Tips For The New Wife On A Budget offers a checklist of the basic tools worth investing in to preserve your budget.
4. Bulk up meals with frugal, whole foods.
By soaking or sprouting your beans, rice, oats, and other grains, you are unlocking tons of frugal nutrition.
You can add beans to soups, chili (here's my favorite classic chili recipe!), pasta sauce, and even make dessert with them without sacrificing taste. Check out the Everything Beans eCookbook for loads of ideas to nourish your family with beans!
Add rice to your beans to serve your family a complete protein, or opt for quinoa, which is a complete protein by itself!
Granola, granola bars, cookies, and a bowl of hearty oatmeal utilize inexpensive oats. Add-ins like nuts, shredded coconut, or dried fruits are completely optional. A little can be added for flavor at minimal cost, depending on your budget.
Potatoes and sweet potatoes are another nourishing, yet frugal, way to bulk up your meals. Add a healthy fat, like butter, to your potatoes to keep blood sugars stable and increase nutrition. Try 4-Ingredient Rosemary Oven-Roasted Baby Potatoes for a simple, inexpensive, and nutritious side.
Learn how to prepare your frugal grains and beans for best nutrition in these posts:
5. Buy seasonal produce.
In-season produce is always less expensive than out-of-season produce.
For example, buy cucumbers and tomatoes in the summer and not the winter when they are transported thousands of miles and not as flavorful anyway.
Cruciferous veggies, such as broccoli and cauliflower, will be cheaper during cooler months — when they naturally grow — than in summer when they must be transported from cooler regions.
Apples are better in September than they are in January, and less expensive, too.
Enjoy berries in the spring and early summer instead of in late fall and early winter.
You'll pay less per pound for in-season produce, and you'll get better flavor and more nutrition.
Here's a treasure trove of ideas for using seasonal produce in all four seasons!
6. Grow your own produce.
A small packet of seeds will likely cost you $1 to $3, yet you can get a huge return on your investment when you harvest produce or herbs you've grown yourself!
And you don't have to live on acreage to do this!
This is a great learning experience for little ones and a fulfilling family project. You don't need much space either! A few pots on a porch or balcony, a small raised bed or two in the backyard, or even a windowsill herb garden are excellent ways to grow your own food and save money.
1 or 2 zucchini plants in pots on your porch will produce enough fruit to keep an entire family in zucchini for a whole growing season.
If you have the space on your property, try planting a fruit tree or two. Just make sure to choose a variety that will grow well in your area and keep it fertilized with compost.
Landscape your yard with edibles instead of ornamental plants. Practical and beautiful! Besides fruit trees, lovely choices for edible landscaping include creeping herbs like thyme for ground cover, blueberries or blackberries to add bushiness and height, and pole beans or cucumbers for trellises. Check out our gardening articles or the book The Edible Front Yard: The Mow-Less, Grow More Plan For A Bountiful Garden.
7. Ferment!
Fermentation adds nutrition without much cost.
Cabbage is one of the most inexpensive foods you can buy (or grow), yet lacto-fermenting it into sauerkraut increases the taste and nutrition.
Don't care for sauerkraut? Ferment something else!
Choose which foods you'll ferment based upon what produce is on sale at the store, what's in season, or what you're already growing.
The least expensive veggies at the store often make the tastiest ferments — like garlic-dill pickles, lacto-fermented carrot sticks, pickled radishes, crunchy beet pickles, and green beans!
Plus, fermentation is an amazing way to preserve food that might otherwise go to waste!
Learn all you need to know about lacto-fermentation in our Lacto-Fermentation eCourse or Lacto-Fermentation eBook or grab my FREE Fermenting Formulas Cheat Sheet. You can also check out our fermenting archives here.
8. Don't waste ANYTHING!
Meat, produce, and baked goods are the items that tend to spoil first.
If you buy meat in bulk, you'll definitely need an extra freezer to store it long-term. If you buy your meats as-needed on a weekly or monthly basis, refrigerate the meat you plan to use within a few days and freeze the rest.
Serve produce that tends to spoil quickly (such as lettuce, spinach, and bananas) first, and save longer-lasting potatoes, onions, and carrots for later meals.
When you bake, freeze bread (pre-sliced) or muffins (especially moist baked goods) to prevent spoilage or mold growth. In the morning or the night before, thaw just what you'll need for the following day.
Even scraps can be used! Vegetable peels can be added to broth for flavor and a mineral boost. Other veggie waste, like cauliflower or broccoli stems, can be fed to dogs and chickens, or composted. Here's an in-depth tutorial on bokashi bucket and worm bin compost methods!
Putting all your scraps to work for you in some way is an excellent way to stretch your dollars!
9. Eat eggs.
Eggs are a frugal, but nourishing source of protein and fat-soluble vitamins.
Protein is important, but it's also the most expensive component of any meal.
Buy the best eggs you can afford and trust that your family is getting lots of nutrition from frugal meals like quiche or scrambled eggs.
Find more delicious egg-based recipes here!
10. Save $$ — ditch processed foods.
Even if it's a special occasion.
Money spent on these items is money that can be redirected and spent on more nutrient-dense foods for your family.
Take the money you would have spent on sodas or toaster waffles or chips, and instead, put it toward:
Help your family transition to healthy "soda" in the form of water kefir or kombucha (continuous brew is especially frugal!) or any of these other gut-healthy fermented drinks.
No matter what you can buy in a box or package at the store, I guarantee you can make it for less at home — especially if you have a large family on a small food budget!
Crackers? Yes! I teach you how to make the most amazing crackers ever in our Sourdough eCourse or Sourdough A to Z eBook.
Yogurt? Yep! It's one of the easiest and fastest ways to cut your budget. I show you how in our Cultured Dairy & Basic Cheese eCourse or Cultured Dairy & Basic Cheese eBook.
Sour cream? Here are two amazingly easy ways to make homemade sour cream!
Butter? I'll let you in on a secret: cultured butter is subtle, tangy and knocks sweet butter out of the park!
Cereal? Here are 31 Deliciously Nourishing Granola Recipes!
Bottom line: No matter what size your family is, you'll increase nutrition and decrease the grocery budget just by switching from processed to homemade items.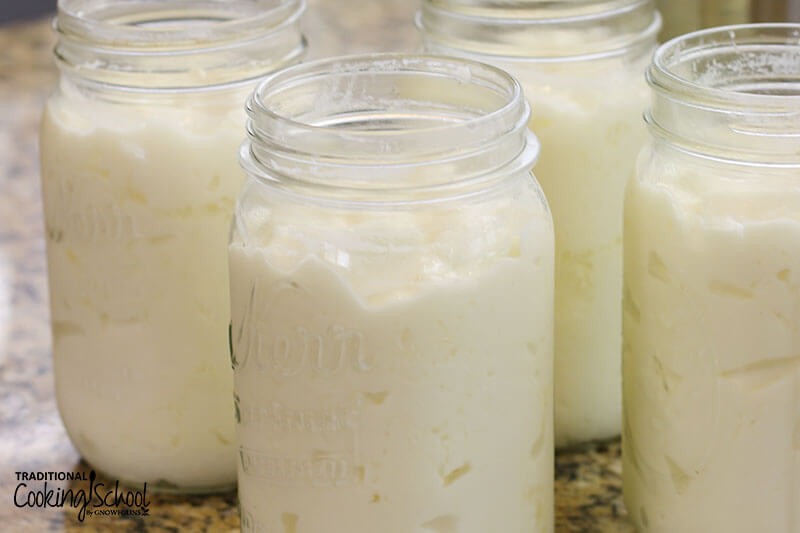 11. Make your own yogurt.
If you can't afford or find raw milk, use store milk to make homemade yogurt or kefir instead of drinking it.
That's right — you don't have to wait to make homemade yogurt, kefir, or other cultured dairy products until you have raw milk!
All you need is low-temp pasteurized or pasteurized — not ultra high-temp (UHT) pasteurized — milk. Of course, organic is preferred, but it's okay if that's not affordable for you right now. 🙂
Even though pasteurized milk is a dead food, you bring it back to life when you culture it into yogurt or kefir! And it brings nourishment to your family for less than raw milk and less than the store-bought versions of these same products.
I show you how to make your own cultured dairy in our Cultured Dairy & Basic Cheese eCourse or Cultured Dairy & Basic Cheese eBook. You can also check out our cultured dairy archives for free recipes.
12. Use sourdough.
With this one, simple staple, you can create all the baked goods your family will ever need and never have to buy muffins, English muffins, tortillas, crackers, or loaves of bread again!
This is one tip I recommend for large families on a small food budget. You'll save money AND filling hungry tummies with nourishing foods.
Making all these baked goods doesn't have to rule your life, either. To quickly begin saving money, choose the item you buy most often from the store — such as bread — and learn how to make that with your sourdough starter first. As time allows, you will slowly replace the store-bought items with your homemade versions!
Our Sourdough eCourse and Einkorn Baking eCourse will teach you everything you need to know. (Or you can check out our stand-alone eBooks.)
Don't want to commit to an eCourse or eBook yet? Grab your free downloads — "How To Start A Sourdough Starter" and "No-Knead Artisan Sourdough Einkorn Bread" — and visit our sourdough archives!
13. Dehydrate seasonal produce.
Did you plant a garden and now have zucchini or tomatoes coming out your ears?
Find a steal of a deal on berries at the grocery store?
Want to store bulk meat purchases but can't afford a second fridge or freezer?
Guess what? All of these items can be preserved through dehydration!
So you don't have to throw away any of your garden's bounty, you don't have to pass up the opportunity to stock up on something at the store for a great price, and you don't have to put off a bulk purchase of meat!
Dehydrating saves money AND space — and is an excellent way to feed a large family on a small budget.
Learn how to dehydrate veggies, fruits, and meat in our Dehydrating eCourse or Dehydrating eBook.
14. Get creative!
If affording healthy, nourishing foods for your family means you have to increase your budget, but that has seemed impossible before, it's time to think outside the box!
With a little creativity, it is likely that you can find a few extra dollars for your food budget, if you're willing to make some sacrifices in other areas of your life.
Ideas include:
I hope this gives you hope that, even with a small budget, you can feed your large family nourishing foods!
Like these tips? Share this infographic image on Facebook, Pinterest, or Twitter, or by email! Hover over the image and easy share buttons will appear!
What did you think of these ways to feed your large family on a small budget? Please share how you do it in the comments!
...without giving up the foods you love or spending all day in the kitchen!
Ditch the Standard American Diet, get healthier & happier, and save money on groceries...
We only recommend products and services we wholeheartedly endorse. This post may contain special links through which we earn a small commission if you make a purchase (though your price is the same).